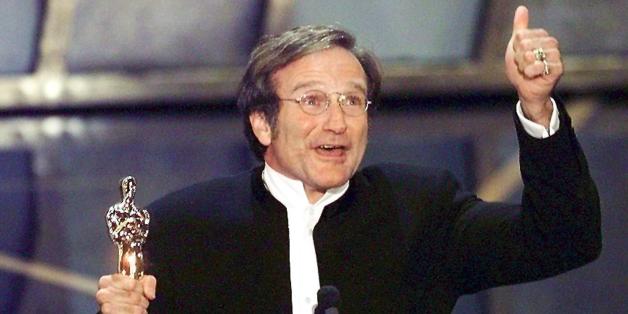 The news of Robin Williams' death has conjured a bounty of memories regarding the beloved actor's life. One of his crowning moments came in 1998, when he collected the Best Supporting Actor Oscar for his turn as psychotherapist Sean Maguire in "Good Will Hunting." He'd been nominated three times previously, for "Good Morning, Vietnam" (1987), "Dead Poets Society" (1989) and "The Fisher King" (1991). His acceptance speech was peppered with grace and humor, insisting that he "still want[s] to see some I.D." for the movie's then-young screenwriters, Ben Affleck and Matt Damon, and thanking the "Mishpucka Weinstein." His embrace with host and old friend Billy Crystal after the speech remains one of the most touching moments from that year's Oscars. Relive Williams' glorious moment below.
Need help? In the U.S., call 1-800-273-8255 for the National Suicide Prevention Lifeline.
Robin Williams' Most Memorable Movies
SUBSCRIBE AND FOLLOW
Get top stories and blog posts emailed to me each day. Newsletters may offer personalized content or advertisements.
Learn more