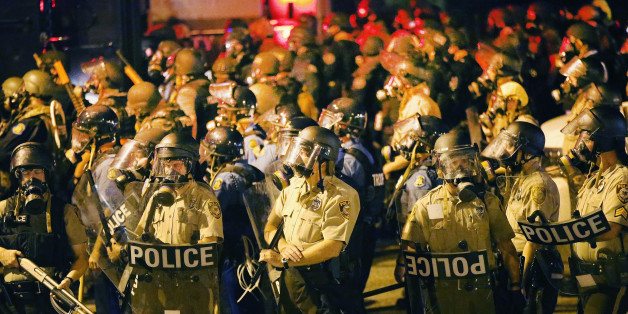 Three journalists covering the unrest in Ferguson, Missouri, were arrested Sunday night.
Missouri Highway Patrol Capt. Ron Johnson ordered the arrests of Financial Times reporter Neil Munshi, Telegraph foreign correspondent Rob Crilly and Sports Illustrated writer Robert Klemko, according to The Washington Post.
Klemko took to Twitter to capture the chaotic scene, live tweeting his temporary detainment:
I got tear-gassed good. Cop grabs me, drags me to truck and hands me water. "You media??" "YES" "hahahahaha Welcome to Ferguson!"
The mobilization and aggression of police was exponentially larger tonight. No more tolerance, apparently.
Cops said they would arrest if I continued to retreat the gas, so I ran into it and got 2 water bottles from a masked cop. Incredible relief
Just spoke with Capt Johnson. They've quarantined me and two other journos. Not allowed to view Florissant. "They tried to take the command"
Capt Johnson is now arresting us.
Captain Johnson arrested us for 2 minutes. We pleaded that we had followed every instruction. He let us go.
Capt Johnson said walk away or be arrested. I started walking away. They followed and arrested us.
When they cut cuffs off minutes later, I held onto it. Johnson tried to take it. I said "it's a ferguson souvenir." pic.twitter.com/89t6G49FId
Last week, The Huffington Post's own Ryan J. Reilly was arrested in a Ferguson McDonald's while he was covering events in the city. Reilly described the incident as a "dehumanizing process."
08/26/2014 7:49 AM EDT
The Toll On Michael Brown's Family
USA Today's Yamiche Alcindor provides an intimate look at how Michael Brown's parents have been dealing with the loss of their son:
Phones constantly ring with reporters asking for interviews or family members offering support. Last week, as demands reached a tipping point, both parents moved into hotels to shield themselves.

In the days leading up to the funeral, Brown's mother continued to cry and spoke in whispers as she tried to explain her feelings.

"They say tomorrow is going to be the hardest day, but I think today was — just seeing my baby laying there, cold," Lesley McSpadden, 34, told USA TODAY. "It did something to my heart. It's too much. It's too much."
SUBSCRIBE AND FOLLOW
Get top stories and blog posts emailed to me each day. Newsletters may offer personalized content or advertisements.
Learn more