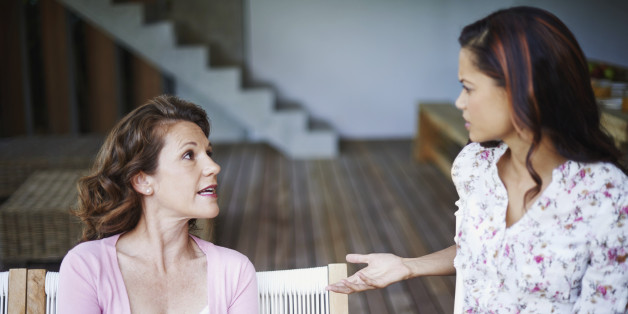 Discussing a friend's recent divorce is something you generally want to handle delicately, just as you would an unexpected job loss or a death in the family.
We're not saying you need to wear kid gloves if the topic comes up, but please, for the sake of your dear newly divorced friend, practice some decorum.
HuffPost Divorce readers will tell you as much. Earlier this week, they drew from personal experience to share the very worst thing they believe you can say to a divorced person.
1. "'I'm sorry.' If they say that, then you have to have that awkward conversation explaining how much happier you are now that your ex is gone."
2. "'Can't you give him a second chance?' Typically by separation, you've given him or her 35 to 3,000 chances."
3. "'What about your kids?' Please don't ask about the kids. All I've thought about since the split is the kids and how they're going to get through this."
4. "'I can hook you up with--' Uh, no thanks, I'm good."
5. "'You just need to find someone else.' No, no, no. That's the last thing you need to be doing after a divorce. Believe me, a new relationship is just a recipe for disaster."
6. "'Marriage is hard work!' It's probably well-meaning, but it's kind of like saying, 'Guess you weren't up to the challenge of marriage!'"
7. "'You know what they say: The quickest way to get over someone is to get under someone else.' Spare me the clichés, please."
8. "'What happened?!' If you don't already know what happened, it's because you don't need to know."
9. "How's [ex's name] doing?' Thanks for asking, but if I gave a damn, I'd still be with them!"
10. 'Ugh, I never liked him or her anyway' -- or any other trash talking of the ex. You never know; they could get back together."
11. "'We all expected this was going to happen.' Who are you talking about when you say 'we' -- and why are you all so judgmental?"
12. "'Was it because he/she cheated on you?'"
13. "'You're beautiful. You'll have someone new in no time.' Sorry, but after 30 years with the same man, I don't need someone new. All I need is time to myself."
14. "His new girlfriend is a cutie!' True story -- someone actually said this to me, believe it or not."
15. "'I told you but you didn't listen.' I've been getting that one for two years now!"
16. "'What are you going to do now?' Don't ask me that because right now, I don't even know."
Keep in touch! Check out HuffPost Divorce on Facebook and Twitter. Sign up for our newsletter here.
PHOTO GALLERIES
TRIVIA: Supportive Celeb Friends During Divorce