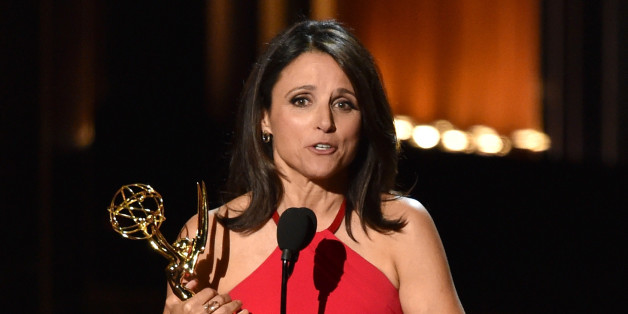 The Emmy award for Outstanding Lead Actress in a Comedy Series goes to Julia Louis-Dreyfus for her role in "Veep."
Dreyfus defeated Lena Dunham, Edie Falco, Melissa McCarthy, Amy Poehler, Taylor Schilling for the win. This is her fifth Emmy win overall and third for "Veep."
Before taking the stage, Julia Louis-Dreyfus made out with Bryan Cranston. Earlier in the broadcast, Cranston and Dreyfus joked about the actor's guest appearance on "Seinfeld," where he kissed Dreyfus' character, Elaine. (Dreyfus said she didn't remember their kiss.)
Twitter then continued to freak out over her win:
Way to go, @OfficialJLD! Outstanding Lead Actress in a Comedy Series. Such a great category. I'm so proud that a woman won. #Emmys
SUBSCRIBE AND FOLLOW
Get top stories and blog posts emailed to me each day. Newsletters may offer personalized content or advertisements.
Learn more