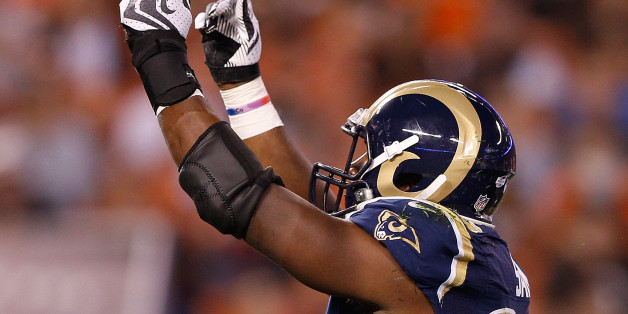 Before the Rams took on the Browns in a preseason game on Saturday night, a Twitter user named FISHER KING promised to provide drinks for the entire world if Sam took down Manziel and then celebrated with the money sign:
Rams vs Browns tonight. If Michael Sam sacks Johnny Football & gives the money sign, drinks are on me. For everyone in the world. Forever.
OMG! So glorious that Sam did it! Take that Johnny Football. You go, Mike!
Today I messed up by promising mankind free booze for all eternity.
Realizing that his promise was impossible to keep, FISHER KING had another idea:
Anyone know Sam's fave charity? So pumped he sacked JFF. If I can't perpetually intoxicate society, I can contribute to its betterment.
Sam heard about the fan's lost bet and decided to help him out:
.@MichaelSamNFL: Consider it done. Great play, btw. Give 'em all Hell in the NFL! You're a class act. God bless, brother.
Proud to have made a donation to the STL Boys & Girls Club in honor of Sam's great play. I'm a product of a Boys & Girls Club too.
SUBSCRIBE TO & FOLLOW THE MORNING EMAIL
Get top stories and blog posts emailed to me each day. Newsletters may offer personalized content or advertisements. Learn more