21 Breakfast Pizzas That'll Make Your Morning Better
Indeed, last night's cold pizza makes for a mighty fine breakfast today.
But this morning's pizza -- hot, fresh and designed just for you, right this instant -- makes for an even better breakfast. This is breakfast pizza.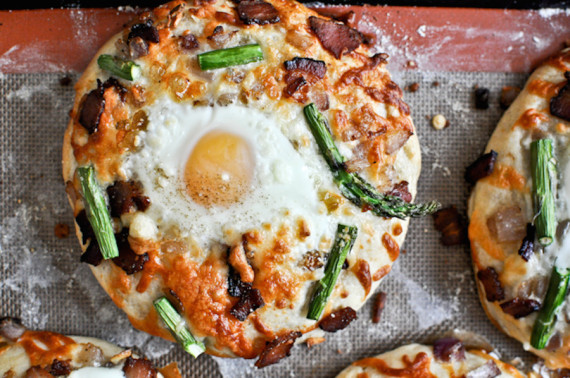 Breakfast pizza is a pizza made for breakfast. There isn't a reason in the world not to eat it. Nor are there any limitations to what you can include atop your pie. Go for classic breakfast fare, like bacon, eggs, potatoes and cheese; think outside the pizza box and mix your pizza toppings into a muffin or scone; enjoy your pizza on some slices of toast; invite avocado to join your breakfast pizza.
Breakfast pizzas are as beautiful as the sunrise, and you can enjoy the two -- breakfast pizza and the sunrise -- in tandem, every morning. Find some inspiration below.
Fake Ginger

2

Asparagus, Goat Cheese & Egg Breakfast Tart

Just A Taste

3

Avocado & Egg Breakfast Pizza

Justina Blakeney

4

Sausage Breakfast Pizza

Real Food By Dad

5

Bacon, Egg & Asparagus Personal Pizza

How Sweet It Is

6

Chickpea Flour Breakfast Pizza (Gluten-Free)

Hummusapien

7

Kale & Ricotta Breakfast Pizza

Bacon Egg And Cheesecake

8

Scrambled Eggs Breakfast Pizza

A Full Measure Of Happiness

9

Bell Pepper, Bacon Hash Breakfast Pizza

Baked By Rachel

10

English Muffin Breakfast Pizzas

Macheesmo

The ABCD's Of Cooking

12

Two Cheese Breakfast Pizza

Dolcetto Confections

13

Potato & Egg Breakfast Pizza

Macheesmo

14

Turkey Bacon Breakfast Pizza

Curly Girl Kichen

15

Thin Crust Breakfast Pizza

Running To The Kitchen

Macheesmo

Macheesmo

Home Cooking Adventure

19

Pizza Muffins (Gluten-Free)

Lazy Gluten Free

20

Egg, Sausage & Caramelized Onions Breakfast Pizza

Hungry Brownie

21

Sweet Potato-Crusted Breakfast Pizza (Gluten-Free)

Hold The Grain
Want to read more from HuffPost Taste? Follow us on Twitter, Facebook, Pinterest and Tumblr.