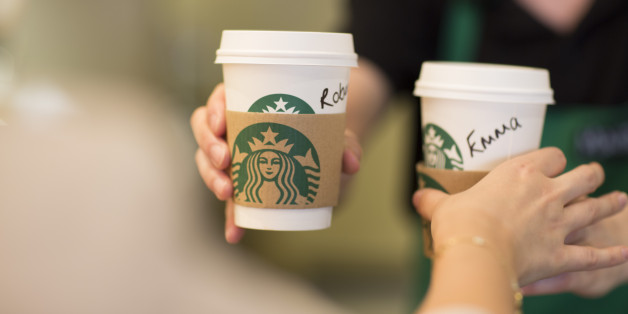 Pumpkin Spice Lattes may be like fall in a cup, but the return of the latte feels more like Christmas Eve. Sure, there's no actual pumpkin in it, but that doesn't mean we don't want to drink it!
In order to get your hands on a latte today, patrons are taking to their phones in a desperate attempt to solve the final clue Starbucks unveiled Monday afternoon.
There's been a little confusion over when the drink would actually return, but a Starbucks spokesperson confirmed that PSLs would be available as early as today if all the clues were solved, translating to an "unlocked" Starbucks. In their own words:
On Tuesday morning, August 26, customers who show the PSL password (or say it) to a barista in their local Starbucks store will "unlock" the beverage early, making the seasonal latte available to everyone who visits the store. The first customer who unlocks a store will be acknowledged by having his or her name displayed on an in-store sign. Fans may unlock as many stores as they'd like.
Keep up your coverage by following @TheRealPSL for more information, and we suggest that you start lining up outside of Starbucks NOW.
Pumpkin spice latte is back and my life is complete
I will not take a picture of my pumpkin spice latte. I will not take a picture of my pumpkin spice latte....
It's so chilly and autumnal out, I want to put on a flannel shirt, jump in a leaf pile, and not order a pumpkin spice latte.
First pumpkin spice latté of the year, I think I nearly kissed the barista out of excitement
Drinking a pumpkin spice latte in my hoodie and thinking about how much I love fall. You can take the girl out of the sorority...
I don't want summer to end but I just bought a pumpkin spice latte so I guess I'm part of the problem. #psl
Happy talk about pumpkin spice lattes. Halloween costume stores already open. People are done with this summer, I guess?
The Pumpkin Spice Latte has been renamed the Iggy Azalea
As if I have to wait until September 3rd until I can get a Pumpkin Spice Latte! Why isn't Canada allowed to have nice things?
Unusual Starbucks Frappuccino Flavors Around the World
SUBSCRIBE TO & FOLLOW LIFESTYLE
Get top stories and blog posts emailed to me each day. Newsletters may offer personalized content or advertisements. Learn more