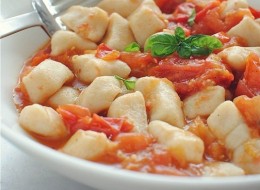 In this life, we get to eat far too few things that can be described as "cloud-like." We've got marshmallows, meringues and the occasional dollop of whipped cream. Don't worry, we've figured out two more, and they're not even dessert: gnocchi and gnudi.
These two different styles of Italian dumplings are the perfect comfort food. They're filling without feeling heavy and are nearly always blanketed in a sauce that deserves sopping up. These delicious cousins are made similarly, shaped similarly and served similarly -- so, what's the difference?
Originally, if the main ingredient was potato, we called it gnocchi. But as with all culinary evolutions, things have begun to deviate from strict definition. In Italian, gnudi roughly translates to 'nude,' which means you should think of gnudi as a naked ravioli -- filling only. That's why gnudi's main ingredient is usually ricotta. We've found gnudi to be a bit more forgiving to make at home, but neither gnudi or gnocchi are rocket science and just require a little practice.
You hear that? Just a little practice and linguistic forgiveness earns you a cloud-like dinner.
Spring Vegetable Gnocchi

Foodie Crush

Cheesy Baked Gnocchi

Bell'Alimento

Beet Green And Ricotta Gnudi

Five And Spice

Crispy Brown Butter Sweet Potato Gnocchi

Half Baked Harvest

Gnocchi With A Roasted Tomato Sauce

Bev Cooks

Pumpkin Ricotta Gnocchi

Simply Recipes

Crispy Gnocchi With Pistachio Pesto

Half Baked Harvest

Baked Gnocchi With Two Cheeses

Bell'Alimento

Spinach And Ricotta Gnudi

Andrea Wyner

Toasted Sage Gnocchi With Sautéed Asparagus & Caramelized Shallots

Adventures in Cooking

Creamy Mushroom Gnocchi

How Sweet It Is

Pan Toasted Brown Butter Gnocchi With Grilled Corn + Scallions

How Sweet It Is

Pan Fried Gnudi With Brown Butter And Mushrooms

Reclaiming Provincial

Carrot-Potato Gnocchi

Frances Janisch

Spinach Ricotta Gnocchi

Simply Recipes

Purple Gnocchi With Rosemary Butter

Bev Cooks

Gnocchi Verde

Christopher Hirsheimer

Mashed Potato Gnocchi

Macheesmo

Pan-Fried Lemon Ricotta Gnocchi

Steamy Kitchen

Gnocchi With Sage-Butter Sauce

Stephen Davis Phillips
Want to read more from HuffPost Taste? Follow us on Twitter, Facebook, Pinterest and Tumblr.