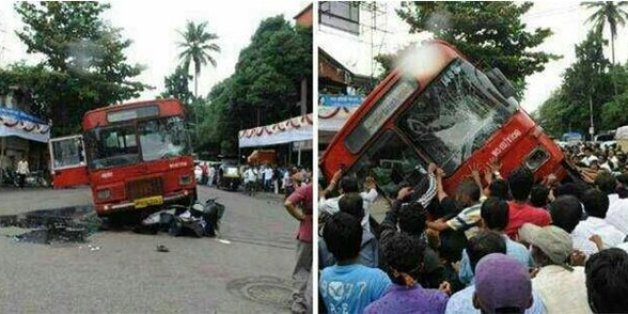 The teamwork and strength of strangers have been credited with saving the lives of two college students after they became trapped under a bus last week in the Indian city of Pune.
According to the Pune Mirror, Ashwin Doshi and Siddharth Dudu had been riding a motorcycle Friday when a bus rammed into them. The students were reportedly struck so hard that they went under the bus, becoming trapped under the vehicle.
Fortunately, help was quick to arrive: in the form of more than 50 bystanders who are said to have immediately "rushed to the spot" to lend a collective hand.
The group reportedly worked as one to lift the bus off the two students, who were soon pulled to safety and rushed to the hospital. The group's prompt action and "brute strength" likely saved the boys' lives, NDTV reports.
This is "people power in action," the news outlet said.
Pune's People Power: Group Lifts Bus to Free Trapped Students http://t.co/L5i91ynGDv (video)

— NDTV News feed (@ndtvfeed) September 1, 2014
According to the Pune Mirror, the students are now in stable condition and "out of danger."
Not just in Perth: 50 people tilt bus to rescue students in #Pune http://t.co/Nx4YQxiGtZ(Photo: @Narendra_IRTS) pic.twitter.com/XnKvOe9fEw

— Hindustan Times (@htTweets) September 1, 2014
Some Indian media outlets have compared the Pune bus rescue to a similar example of heroism last month when the people of Perth, Australia worked together to push a train to free a passenger whose leg was caught in the gap between the train door and the platform.
Also last month, a group of strangers in Ireland were hailed as heroes after they lifted a train to free a 16-year-old girl who had become trapped between the train car and the boarding platform. "No words to describe how thankful I am to all the people that picked the [train] up in order to get me out," the teen wrote in a comment on Facebook after the incident.
Go, team!
ALSO ON HUFFPOST:
PHOTO GALLERIES
Heroic Rescues