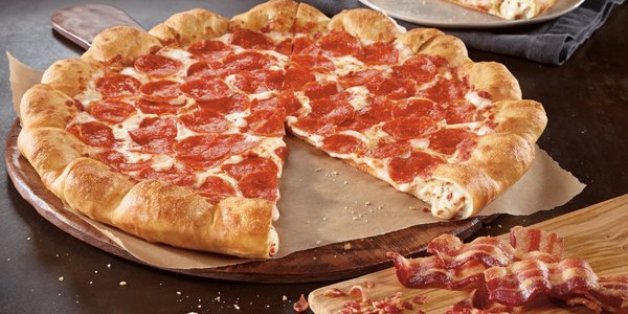 Prepare to use your pizza emojis a lot today, because Pizza Hut hit us with Cheesy Bacon Stuffed Crust Pizza.
The pizza chain didn't mince words when it announced its latest culinary invention, and we don't blame 'em. When you're introducing pizza with bacon and cheese in the crust, it's always best to keep things short and savory.
In lieu of ruining more punchlines, here's what we wish we'd tweeted:
Cheese and bacon stuffed crust at @pizzahut dear lord thank you for this gift you have bestowed upon us.
Pizza hut has bacon and cheese stuffed crust…. *Breaths extremely heavy* 😱
Bacon Stuffed Crust. Bae-con Stuffed Crust.
this guy is saying he would rather go to pizza hut then run 5k and I'm relating on an emotional level
With a complimentary gastric bypass? RT @CNNBrian: .@pizzahut is now selling a bacon and cheese stuffed crust pizza. That is all.
Pizza Hut is now putting bacon in their stuffed crust? What kind of sorcery is this? #pizzahut
Pizza Hut has bacon stuffed crust. Jesus.
"@BuzzFeed: Pizza Hut Introduces Bacon and Cheese-Stuffed Crust Pizza"

Fitting into small tshirts is overrated anyways
So Pizza Hut has a stuffed crust pizza where the crust is stuffed with 3 cheeses and bacon. TALK DIRTY TO ME!!! 😍 🍕🍕
Pizza Hut the GOAT for that bacon & cheese stuffed crust pizza
SUBSCRIBE AND FOLLOW
Get top stories and blog posts emailed to me each day. Newsletters may offer personalized content or advertisements.
Learn more