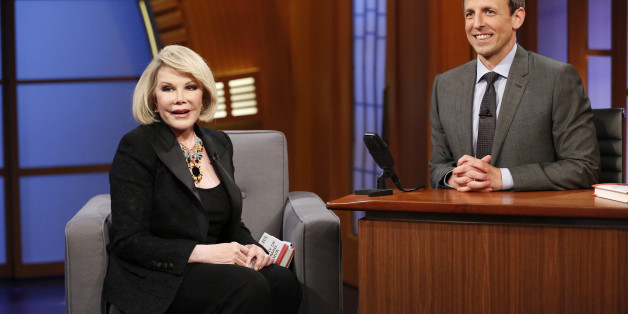 The news of Joan Rivers's death brought tremendous sadness on Thursday as fans grieved the loss of a comedic legend.
Rivers died at 81 after she stopped breathing during a surgery on her vocal cords and was put on life support. Her daughter, Melissa Rivers, said in a statement that her mother "passed peacefully...surrounded by family and close friends."
While we'll never forget her incredible presence on "Fashion Police" or on the red carpet, the comedian also had some epic moments on network news shows. Actually, she was pretty darn amazing on network news. And for that, we say, thank you, Joan.
She threw bagels on "The View" and told Joy Behar to "grow up":
She stormed off during her interview with CNN's Fredricka Whitfield:
And then David Letterman stormed off on her:
She made Hoda and Kathie Lee laugh really, really hard:
"Betty White's bowels move more than my face."
She had to have a "CENSORED!" banner put over her mouth:
She dropped the F-bomb on a morning show:
She accused a woman of being "premenstrual" on "Larry King Live."
ALSO ON HUFFPOST:
PHOTO GALLERIES
Joan Rivers Quotes