Pull bread (also known as pull-apart bread) takes the delight induced by tearing off a piece from a freshly baked loaf of bread to new extremes. It might just be your favorite bread recipe yet. The crusty loaf is stuffed with a serving of something ooey gooey that emerges as you rip. Just think: You can basically stuff a pizza inside an entire loaf of bread.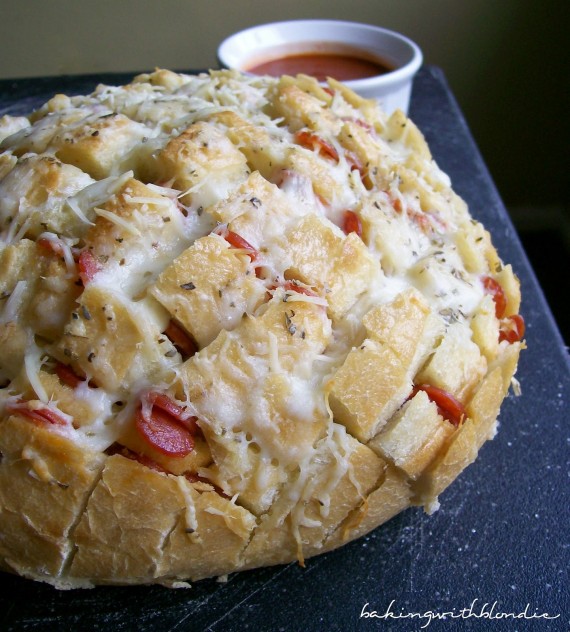 Baking With Blondie
Pull bread is one of the simplest recipes to make, and it's a guaranteed palate pleaser: You can really stuff anything inside this miraculous loaf. Go savory with ingredients like bacon, ranch, cheese, tomatoes or onions. Or, bake up something sweet for brunch or dessert with fillings like cinnamon, chocolate, marshmallows or fruit.
Precision is not required to whip one of these up, so even if you can't fry an egg, you'll be able to master pull bread. Give it a go with 29 recipes below.
Herb & Cheese Pull-Apart Bread

The Tummy Train

Italian Provolone Pull-Apart Bread

Very Culinary

Tiny Pull-Apart Pizza Breads

Reclaiming Provincial

Bloomin' Onion Bread

The Girl Who Ate Everything

Cheesy Jalapeño Pull Bread Recipe

Simply Recipes

Pull Apart Lemon Coffee Cake

Clockwork Lemon

Roasted Tomato & Ricotta Pull-Apart Bread

The Little Epicurean

Reuben Pull Bread

Taste And Tell

Peanut Butter & Prickly Pear Pull-Apart Bread

Scarletta Bakes

Pepperoni Pizza Pull-Apart Bread

Baking with Blondie

Cheesy Mushroom Pull Apart Bread

Beantown Baker

Cinnamon Roll Pulls

Plain Chicken

S'mores Pull Apart Bread

Foodie Fanatic

Buffalo Chicken Pull-Apart Bread

Bev Cooks

Raspberry Jam Filled Pull-Apart Bread

Season And Suppers

Pepperoni Pizza Pull-Apart Bread

Just A Taste

Cinnamon Apple Pull Apart Bread

Half-Baked Baker

Cheesy Garlic Pull-Apart Bread

Chez Us

Cheddar, Beer And Mustard Pull-Apart Bread

What Should I Eat For Breakfast Today

Blueberry Pull Apart Bread

Kitchen Corners

Gingerbread Pull-Apart Bread

Fat Girl Trapped In A Skinny Body

Caramel Apple Pull-Apart Bread

Lea & Jay

Nutella S'mores Pulls

Plain Chicken

Parmesan Pull-Apart Bread

Chocolatey Red Velvet Pull-Apart Bread With Cream Cheese Glaze

Willow Bird Baking

Cheesy Bacon Ranch Pull Apart Bread

Buns In My Oven

Brown Sugar Pull-Apart Bread

Two Of A Kind

Pull-Apart Pretzel Skillet With Beer Cheese Dip

Host The Toast

Chocolate Bacon Pull-Apart Bread

Crazy For Crust
Want to read more from HuffPost Taste? Follow us on Twitter, Facebook, Pinterest and Tumblr.