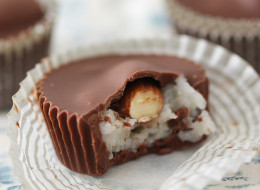 Sometimes candy bars can be hard to resist, especially when you're standing in the check-out lane at the supermarket. That display of chocolate and candy is designed to lure you in. But candy bars don't all have to be bad -- they can be homemade and delicious.
If you're making candy bars yourself, you can control every last detail, like the level of sweetness and the quality of ingredients. This way you can skip all the weird hydrogenated oils and artificial flavors, among other undesirable ingredients that you can't even begin to pronounce. You can even make them vegan.
Check out the unique homemade candy bar recipes we've gathered for you. You'll learn how to make Snickers, Reese's, Twix and more. Next thing you know, you won't be giving those check-out aisle candy bars a second look.
Cookie Dough Peanut Butter Cup

Half Baked Harvest

Homemade Kit Kat Bars

A Beautiful Mess

Homemade Snickers

How Sweet It Is

Almond Joy Cups

Sophistimom

Homemade Twix

Bakers Royale

Homemade Tootsie Rolls

Heather Baird

Kit Kat Bars (Vegan)

Oh She Glows

Homemade Peanut Butter Cups

Brown Eyed Baker

Salted Caramel Twix

Whisked

Homemade York Peppermint Patties

Petite Kitchenesse

Butterfinger

Pip & Ebby

Almond Joy Candy Bars

Kristin Rosenau/Food52

Homemade Three Musketeers

Namely Marly

Homemade Crunch Bars

Chocolate Covered Katie
Want to read more from HuffPost Taste? Follow us on Twitter, Facebook, Pinterest and Tumblr.