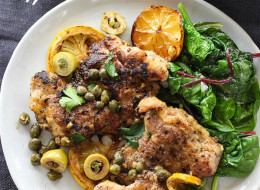 There are some ingredients that get taken for granted and capers top that list. Despite the capers small size, and their seemingly insignificant measurement called for in your recipes, this ingredient is responsible for bringing bold, beautiful flavors to some of your favorite dishes -- especially in mediterranean cuisine.
Those tiny capers, which are actually pickled flower buds are salty, briny and incredibly pungent which is why just a little goes a long way. Many recipes wouldn't be the same without capers, like the classic piccata sauce, eggplant caponata or even homemade tartar sauce. But don't take our word for it, let the recipes below show you what we mean.
Mediterranean Lentil Salad

Bev Cooks

Classic Chicken Piccata

James Ransom/Food52

Greek Pasta Salad

Foodie Crush

Herb Crusted Leg Of Lamb With Mint Gremolata

Feasting at Home

Quick Broiled Barramundi Fillets With Puttanesca Sauce

Cafe Johnsonia

Sautéed Chicken With Olives, Capers And Lemons

Foodie Crush

Roasted Vegetables With Caper Vinaigrette

Mirjam Leslie-Pringle/Food52

Italian Salsa Verde

thirschfeld via Food52

Chicken Nicoise Pasta Salad

Foodie Crush

Rigatoni With Capers And Mint

Mirjam Leslie-Pringle/Food52

Wheat Berry Salad With Roasted Fennel And Bell Pepper

la domestique/Food52

Smoked Salmon With Horseradish Caper Sauce

Tom Hirschfeld/ Bona Fide Farm Food

Campanelle With Hard-Boiled Eggs, Capers And Watercress

Alexandra Cooks

Watercress Citrus Salad With Olive-Caper Vinaigrette

Cafe Johnsonia

Beef-And-Lamb Burgers With Cheddar And Caper Remoulade

Tina Rupp/Food & Wine

Radicchio Salad With Toasted Hazelnuts And Capers

Melina Hamme/Food52

Smoked Trout And Caper Cream Cheese Toasts

Michael Turek/Food & Wine

Roasted Potatoes With Lemon And Capers

Cafe Johnsonia

Baked Feta With Sun-Dried Tomatoes And Capers

Kathryn Morrissey/Food52

Asparagus With Shallot-Caper Vinaigrette

Frances Janisch

White Bean Panzanella Salad With Tomato Dressing, Caper Berries And Anchovies

TASTE

Sole Picatta

Simply Recipes
Want to read more from HuffPost Taste? Follow us on Twitter, Facebook, Pinterest and Tumblr.