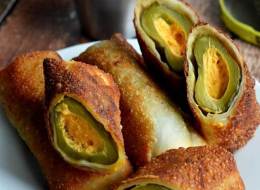 In the past couple of years, pickles have made a comeback in a big way. Home pickling has picked up, and as a result all kinds of fruits and vegetables are being pickled. In restaurants, the pickle's popularity has gained a spotlight on the best of menus. But despite this pickle renaissance, we still have a soft spot for the store-bought variety.
So much can be made with supermarket pickles, in addition to the surprisingly good peanut butter and pickle sandwich. It's time you stop serving your pickles alongside your meals, and start incorporating them into your recipes. Not sure how to get started? Here are a few great recipes to show you the way.
Cubano Mixto

James Ransom/Food52

Pickle Roll Ups

Pip & Ebby

Dill Pickle Grilled Cheese

BS In The Kitchen

Buffalo Pickle Chips

Little Leopard Book

Pickle-Infused Vodka

Foodie Crush

The Cuban Burger

Dax Phillips/Food52

Fried Pickle Poppers

Host The Toast

Chicken Antipasti Sandwich

Sarah|PickledCapers

Homemade Thousand Island

The View From The Great Island

Pickle Dip

Spabettie

Fried Pickles With Spicy Ranch

Buns In My Oven

Fried Walleye & Potato Cakes With Creamy Dill Sauce

BS In The Kitchen

Homemade Tartar Sauce

Simply Recipes

Cuban Sandwich Quesadilla

Skinny Taste

Turkey Burgers With Spicy Pickle Sauce

Quentin Bacon/Food & Wine

Dill Pickle Soup

BS In The Kitchen

Rueben Grilled Cheese

Live Love Pasta

Potato Salad

Simply Recipes
Want to read more from HuffPost Taste? Follow us on Twitter, Facebook, Pinterest and Tumblr.