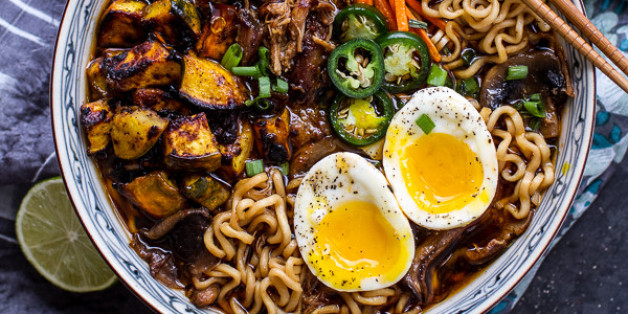 Half Baked Harvest
Winter's arrival means it's time to pull out the slow cooker. If you're rolling eyes because you think slow cookers are passé or unnecessary, we've got news for you. Slow cookers are awesome and they're never going out of style, so get on board. Crock Pot recipes are the ideal plan when it's cold and dreary outside. They warm us from the inside and help keep us cozy when the days are short and the nights are long. They're like a magical pot in the kitchen that transforms food from ho-hum to tender and wonderful. So it's time to stop knocking the slow cooker, folks.
Not only do we love the comforting meals our slow cooker churns out, but we also love how effortless they are. You simply prep the ingredients in the morning, set them in your slow cooker and let it do all the work. Dinner will be ready and waiting for you when you get home. It's that easy, guys, and it's even more satisfying because it's so simple.
When most people think of slow cookers, they think of slow cooked meat, like beef stews, pulled pork or ragu. Your slow cooker isn't just a meat machine, however. It's a perfect vessel for cooking up vegetarian soups, chili or mac and cheese. You can make everything from mashed potatoes to dulce de leche in your slow cooker, so why don't you? You can even steam food in our slow cooker, we recently discovered. It's the easiest, most effective way we know to draw out deep flavors and produce effortlessly succulent dishes, be they meat-heavy or completely meat-free. The time to get down with your slow cooker is now. Here are 52 recipes to try out:
How Sweet It Is

2

Slow Cooker Honey Garlic Chicken

Just A Taste

3

Crock Pot Carne Asada Nachos

How Sweet It Is

4

Italian Turkey Meatballs

Skinny Taste

5

Bacon Wrapped Beef Tenderloin With Balsamic Glaze

A Spicy Perspective

6

Slow Cooker Maple Bacon Beer Baked Beans

The Beeroness

No. 2 Pencil

8

Crispy Slow Cooker Carnitas

Gimme Some Oven

9

Slow Cooker Cranberry Sauce

Gimme Some Oven

10

Crockpot BBQ Beer Pulled Chicken With Cheddar Corn Popovers

Half Baked Harvest

11

Sweet And Spicy Crock Pot Ribs

Eat, Live, Run

Gimme Some Oven

13

Coconut Ginger Chicken And Vegetables

Simple Bites

Little Leopard Book

15

Chicken And Sausage Stew

Confections of a Foodie Bride

16

Slow Cooker Garlic Mashed Potatoes

Damn Delicious

17

Vietnamese Spring Rolls With Slow Cooker Pork

Steamy Kitchen

18

Slow Cooker Beer And Brown Sugar Pulled Chicken Sliders

The Beeroness

How Sweet It Is

20

Slow Cooker Cranberry Pecan Stuffing

Damn Delicious

21

Slow Cooker Chicken Teriyaki

Cooking Classy

22

Slow Cooker Spinach And Artichoke Dip

Damn Delicious

23

Vietnamese Chicken Pho Ga

Steamy Kitchen

The Comfort Of Cooking

25

Brisket & Brie Quesadillas

Confections of a Foodie Bride

26

Crockpot Coconut Hot Chocolate

How Sweet It Is

27

Black Bean Chili With Chocolate And Coconut

Gimme Some Oven

28

Slow-Cooked Turkey With Mustard Sauce

Simply Recipes

29

Slow Cooker Spiced Applesauce

Completely Delicious

Recipe Girl

31

Chipotle Stout Crock Pot Chili

Little Leopard Book

The Comfort Of Cooking

33

Crockpot Crispy Caramelized Pork Ramen Noodle Soup With Curry Roasted Acorn Squash

Half Baked Harvest

Cooking Classy

35

Slow Cooker Beer Chicken Tacos With Jalapeño Slaw

The Beeroness

How Sweet It Is

37

French Onion Slow Cooker Pot Roast

Real Mom Kitchen

38

Filipino Adobo Pulled Pork

Skinny Taste

39

Mexican Stuffed Bell Peppers

No. 2 Pencil

40

Slow Cooker Sloppy Joe

Buns In My Oven

41

Pulled Barbecued Chicken Sandwiches

Recipe Girl

Recipe Girl

43

Ginger Curry Lentil Soup

The Fountain Avenue Kitchen

44

Slow Cooker Apple Cider

Gimme Some Oven

45

Slow Cooker Turkey Taco Chili

Gimme Some Oven

46

Slow Cooked Boston Baked Beans

Simply Recipes

47

Slow Cooker Chicken Parmesan Soup

Food52

48

Slow Cooker BBQ Pork Nachos

Bev Cooks
Follow HuffPost's board The Best In Comfort Food on Pinterest.
Want to read more from HuffPost Taste? Follow us on Twitter, Facebook, Pinterest and Tumblr.
FOLLOW HUFFPOST