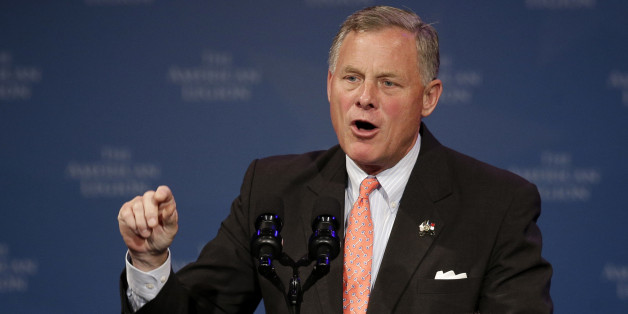 ASSOCIATED PRESS
WASHINGTON -- Sen. Richard Burr (R-N.C.) usually arrives discreetly to the Senate Intelligence Committee's weekly briefings. He often shuffles down the hallway solo, issuing a polite nod to the waiting press and slips quietly into the panel's secret committee spaces.

Lately, though, he's had an extra spring in his step. And for good reason. The two-time senator is about to take the helm of one of the Hill's most powerful, secret panels, and after years of watching and waiting, he'll finally be taking intelligence oversight into his own hands.

"I'd like to rip down the rearview mirror that seems to be the motivating tool for the committee, and do oversight in real time," Burr told The Huffington Post on Tuesday. "Force the [intelligence community] to show us their metrics so that we can hold them accountable for progress."

The comment was no doubt an ever-so-subtle jab at current Intelligence Chair Dianne Feinstein (D-Calif.), particularly as she leaves behind a tenure of hefty committee reports based primarily on hindsight, including her highly anticipated finale, the CIA torture report.

It's that tendency toward retrospect that Burr suggested has hamstrung the committee, turning it from active participant to sideline observer in the intelligence community -- a trend he intends to reverse.

"The committee has to have, I think, greater granularity to what it is we're doing," Burr said. "Which means possibly members doing a little more traveling, actually getting on the ground talking to people that are carrying out some of our operations, feeling, touching things, seeing what the lay of the land is."

And think Feinstein ran a tight ship? Don't expect Burr to loosen the reins.

"I'm not sure that the functions of the committee are meant to be transparent," he said when asked about the relationship between reporters and the panel, an accord that is naturally riddled with tension. Though, he added, he still intends to do nominations in a transparent fashion.

Open-government advocates have shuddered at what intelligence oversight could look like with Burr in the driver's seat. Long considered a bedfellow of the CIA and the nation's other clandestine organizations, he once said that, if he ever were to get the intelligence committee's reins, the panel would stop holding its already-scarce open hearings.

But he seems to be backing off that declaration, at least for the moment.

"There has to be a compelling reason. And I think that where anybody in the [intelligence community] can make the case that a public hearing is educational for the American people, that it helps them understand the threat, or understand the capabilities to minimize the threat, I'm more than open to open hearings," he said.

The problem, he said, is that certain colleagues tend to ask loaded questions that often hint at covert programs.

"I think there's always a tendency for a member to ask a question that can't be asked in open session, intentionally or unintentionally," Burr said, perhaps alluding to Sens. Ron Wyden (D-Ore.) and Mark Udall (D-Colo.). "And I think that any time that happens it jeopardizes sources and methods, personnel, and I don't think the function of the committee is to do that."
A telling indicator will be Burr's handling of the committee's annual Worldwide Threat Assessment Hearing, a traditionally open hearing where key intelligence community leaders appear before the panel. In the past, that hearing has been a platform for lawmakers to ask just those types of questions to which Burr was referring.
Under Feinstein's leadership, the annual hearing usually occurred toward the beginning of each calendar year. A Worldwide Threat Assessment Hearing for 2015 has not yet been announced.

Burr will replace retiring Sen. Saxby Chambliss (R-Ga.), the panel's ranking member, and take the helm of the Intelligence Panel from Feinstein in January.
Also on HuffPost:
2014 Election Results: Winners & Losers
FOLLOW HUFFPOST