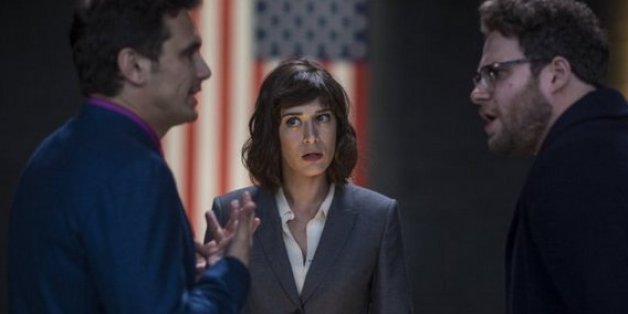 Sony Pictures
The seemingly unprecedented cancellation comes even after officials from the Department of Homeland Security emphasized that there is "no credible intelligence to indicate an active plot against movie theaters within the United States."
The film's cancellation has not gone unnoticed in Hollywood, as celebrities have taken to Twitter to express their thoughts on Sony's decision:
Saw @Sethrogen at JFK. Both of us have never seen or heard of anything like this. Hollywood has done Neville Chamberlain proud today.
There goes my Hitler comedy.

— Zach Braff (@zachbraff) December 17, 2014
Canceling "The Interview" seems like a pretty horrible precedent to set.
This only guarantees that this movie will be seen by more people on Earth than it would have before. Legally or illegally all will see it.

— Judd Apatow (@JuddApatow) December 17, 2014
. @JuddApatow I agree wholeheartedly. An un-American act of cowardice that validates terrorist actions and sets a terrifying precedent.
THE INTERVIEW is now poised to shatter the world record for "spite viewings."

— Patton Oswalt (@pattonoswalt) December 17, 2014
EVERYONE! MAKE EVERY ATTEMPT YOU CAN TO SEE #TheInterview !!!!!
WE CANNOT LET KIM JONG UN WIN! MAJOR THEATRES WILL NOT SHOW THE MOVIE NOW!!

— Lucas Till (@lucastill) December 17, 2014
Canceling "The Interview" is quite a game changer in so many ways isn't it?
Was really looking forward to seeing the "Interview" too. Smh

— Damon Wayans Yunior? (@wayansjr) December 17, 2014
No bullshit though, this is seriously fucked and it's such a sad day for free speech. Frightening.
Dear Sony Hackers: now that u run Hollywood, I'd also like less romantic comedies, fewer Michael Bay movies and no more Transformers.

— Michael Moore (@MMFlint) December 17, 2014
Worried about the prospects for my new film,"Abbot and Costello Fuck North Korea's Mom."
Do the terrorists win in the end of #TheInterviewMovie ? I guess so..

— Bryan Greenberg (@bryangreenberg) December 17, 2014
And this is what James Franco tweeted shortly after the news broke:
FOLLOW HUFFPOST