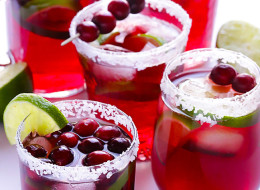 Put a new log on the fire, it's time to talk about Christmas cocktails. Around this time of year, we sometimes feel like all anyone can talk about is eggnog. Drink eggnog if you'd like, but there's something that gives us the shivers about too many cups of egg yolks and cream in our stomachs. Let's face it: eggnog is kind of weird and a little alienating, and while it's lovable in small doses, a lot of eggnog can be too much of a questionably good thing. And the reality over the holidays is, you're going to want to serve something you can drink a lot of.
The Christmas cocktails we get excited for use the fruits of the season, the warmth of the stove or the bounty of the punch bowl. Here are 27 of our favorite things to drink on Christmas -- and all winter long.
Brandy Alexander

Todd Wagner/HonestlyYUM

Jingle Juice

Baked Bree

Champagne Cocktail

James Ransom/Food52

Winter Bourbon Smash

Minimalist Baker

Autumn Crush

Verses From My Kitchen

Holiday Milk Punch

Food52

Mulled Wine

Gimme Some Oven

Crimson Bulleit Punch

James Ransom/Food52

Holiday Mule (Ginger Beer, Gin Or Vodka)

Home Sweet Jones

Pear Sonata

Todd Wagner/HonestlyYUM

Maple Old-Fashioned

Food52

St. Germain Pomegranate Spritzers

Minimalist Baker

Spiced Gløgg With Port Wine And Cointreau

Sarah Shatz/Food52

Fresh Cranberry Ginger Vanilla Margaritas With Sugared Cranberries

How Sweet It Is

Mulled White Wine With Pear Brandy

Merrill Stubbs/Food52

Cranberry Cinnamon Cocktail

Horrible Housewife

Holiday Sparkler

James Ransom/Food52

The Real McCoy Cocktail

Verses From My Kitchen

Raspberry Limoncello Prosecco

Damn Delicious

Cranberry Margaritas

Gimme Some Oven

Bubbly French 75 Cocktail

FoodieCrush

Cranberry Gimlet

Food Fanatic

Spiced Blood Orange And Champagne Punch

Spoon Fork Bacon

Hot Buttered Hazelnut Whisky

Adventures In Cooking

Mulled Pomegranate Punch

Holistic Squid

Honey-Pomegranate Mulled Wine

Food52

Winter Sangria

Bakeaholic Mama
Want to read more from HuffPost Taste? Follow us on Twitter, Facebook, Pinterest and Tumblr.