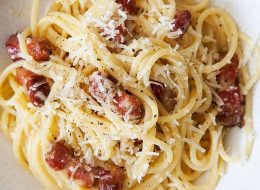 We have Italy to thank for most things we love, from burrata to Neapolitan pizza, and recently, we've been thanking them a little extra for pancetta. For those of you who are unfamiliar with pancetta, it's basically Italian bacon. It's salt-cured pork belly, and is often served cubed, but may also be sliced thin. While both bacon and pancetta are cured pork belly, bacon is typically smoked after it's been cured, while pancetta is not. We've been having a bit of a love affair with pancetta lately, and we're not ashamed.
Like bacon, pancetta goes great on top of salads and soups, and, being Italian, it's basically pasta's BFF. We're pretty sure we could be happy eating Bucatini all'Amatriciana, which is made with pancetta, every day for the rest of our lives. Pancetta also goes great with poached eggs, oysters and french onion soup, but that's just the beginning. Here are 29 pancetta recipes that will turn you into pancetta lovers, just like us.
Poached Eggs, Pancetta And Spinach Toast

Ichigo Shortcake

Farfalle Carbonara With Pancetta And Sage

Verses From My Kitchen

Bucatini all'Amatriciana

Food52

Nectarine And Fig Summer Salad recipe With Crispy Pancetta

How Sweet It Is

Pancetta, Caramelized Onion Puff Pastry "Ravioli"

White On Rice Couple

Lentil Soup With Crisp Pancetta

Verses From My Kitchen

Roasted Brussels Sprouts With Pancetta And Balsamic Syrup

Just A Taste

Pasta With Spinach, Pancetta And Pomegranate

Family Fresh Cooking

Baked Brie With Candied Pancetta, Pecans And Spicy Cranberries

Cooking For Keeps

Spaghetti alla Carbonara

Simply Recipes

Oysters With Pancetta And Pine Nuts

Sweet Paul

Absurdly Addictive Asparagus

Food52

Roasted Pumpkin Risotto With Pancetta

bell'allimento

Orecchiette With Chanterelles, Broccolini, Frisee And Pancetta

Lemons & Anchovies

Duff's Eggs Benedict

Macheesmo

French Onion And Endive Soup With Pancetta

Cookin' Canuck

Watercress Soup With Pear And Pancetta

Baba Ganuj

Pasta With Pancetta, Garlic, Lemon And Olives

Sweet Paul

Pancetta Fried Rice

Damn Delicious

Butternut Squash And Pancetta Orecchiette

spoon fork bacon

Slow-Cooked Tuscan Kale With Pancetta, Bread Crumbs And A Poached Egg

Food52

Pancetta And Hazelnut Green Beans

Foodiecrush

Goat Cheese Stuffed Figs With Pancetta

Snixy Kitchen

Pancetta Mac And Cheese Panini

Damn Delicious

Grilled And Stuffed Tomatoes With Pancetta

FoodieCrush

BLT Panzanella

FoodieCrush

Brussels Sprouts With Pancetta, Cranberries And Pine Nuts

Brown Eyed Baker

Melon Pasta Salad

Macheesmo

Chickpea Bolognese

Food52


Want to read more from HuffPost Taste? Follow us on Twitter, Facebook, Pinterest and Tumblr.