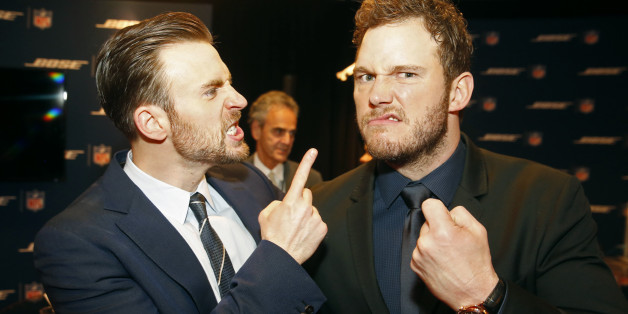 When Star-Lord goes into battle with Captain America, everyone wins.
Chris Pratt, the Seahawks-loving actor who played Star-Lord in "Guardians of the Galaxy," and Chris Evans, a Patriots fan who played Captain America, decided to honor both ends of their Super Bowl bet.
The bet called for the loser to visit a children's hospital in the rival's city, wearing the winning team's paraphernalia over his superhero getup. Following the Patriots' win Sunday night, Pratt gracefully admitted defeat on Twitter, indicating he'd soon be in Boston, where he'll presumably wear a Tom Brady jersey while visiting families whose children are fighting cancer:
Evans soon chimed in, first thanking Pratt for "being a good sport," then announcing the pair would visit Seattle Children's Hospital, too:
coming there too! And lastly, I don't think anyone can ever doubt the mental toughness of Tom Brady. Tough couple weeks, but he showed why
Despite their sports rivalry, Pratt and Evens even watched the big game together, attending in person:
Superheroes in the movies; regular heroes in real life. Nice work, fellas.
Also on HuffPost:
The Most Charitable Stars
SUBSCRIBE AND FOLLOW
Get top stories and blog posts emailed to me each day. Newsletters may offer personalized content or advertisements.
Learn more