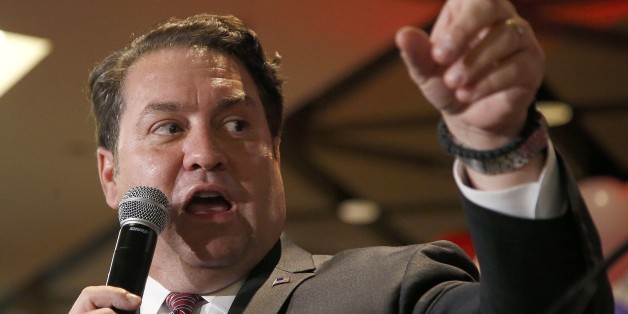 The office of Arizona Attorney General Mark Brnovich (R) has asked a federal judge to dismiss the lawsuit of a teacher who was stabbed and sexually assaulted inside a state prison after guards allegedly abandoned her in a room full of sex offenders to whom she was administering a high school equivalency test.
In a Monday hearing, Deputy Attorney General Jonathan Weisbard requested that U.S. District Judge Susan Bolton drop the teacher's case on the grounds that, having worked in prisons before, the teacher should have known that being assaulted was a possibility.
"[The] Plaintiff is an ADOC (Arizona Department of Corrections) employee who routinely worked at the prison complex," Weisbard wrote in his motion to dismiss. "By being placed in a classroom at the complex, the officers were not placing Plaintiff in any type of situation that she would not normally face. The risk of harm, including assault, always existed at a prison like Eyman."
Weisbard argued that the defendants, employees of the Arizona Corrections Department and prison health care provider Corizon Health Inc., could not be held responsible for willfully placing the teacher in danger. "How these defendants were chosen is a mystery at this point," Weisbard told Bolton. The teacher's suit says the warden and other top corrections officials didn't establish proper security and that Corizon employees misclassified the inmate as low risk.
The attack took place in January 2014 at the Eyman state prison's Meadows Unit, which housed 1,300 individuals who were convicted of violent sex crimes. According to the lawsuit, after the teacher administered the test, Jacob Harvey, an inmate serving a 30-year sentence for raping and beating a woman while her toddler was present, grabbed the teacher from behind and stabbed her with a pen until she was on the ground. Then, he sexually assaulted her while she screamed for help. After the assault, the teacher attempted to summon guards using a prison radio, but it didn't function. In the end, it was Harvey who let the teacher use a phone to get assistance.
A Department of Corrections spokesman said at the time that the conditions in the classroom followed "accepted corrections practices nationwide."
Months later, The Associated Press obtained documents under the Arizona Public Records Act that suggested serious lapses in prison security may have led to the conditions that allowed the attack to take place.
"As a result of the brutal rape and assault, (the woman) suffered physical injuries, great fear for her life and well-being and severe and traumatic emotional distress with which she continues to struggle to this day," the teacher's lawyer, Scott Zwillinger, wrote.
Brnovich wasn't available to comment Wednesday, but the Attorney General's Office said in a statement: "As a former prosecutor, no one is more sympathetic to victims of violent crimes than Attorney General Mark Brnovich. Our office was disappointed to see a misleading opinion piece that was recently published regarding the brutal assault of a Department of Corrections employee that occurred in January 2014. The Attorney General's Office is taking affirmative steps to make sure that justice is served for the victim of this heinous crime. We would ask all parties to respect the integrity of the legal process."
This post has been updated with a statement from the Arizona Attorney General's Office.
10 Major Crimes That Shocked America (SLIDESHOW)
SUBSCRIBE AND FOLLOW
Get top stories and blog posts emailed to me each day. Newsletters may offer personalized content or advertisements.
Learn more