"Many think a flight attendant would be an exciting, varied dream job, but the job is pretty stressful sometimes. Some passengers are very tiring and if you fly always the same routes it is quickly monotonous," she said, according to the Mirror.
She also felt the conservative nature of the job her back from her real dream: Having super-duper, humongous breasts.
"It's about the image that I had to maintain as a flight attendant for the airline," she said, according to InTouch Weekly. "Small, discreet body modifications are no problem as a flight attendant but I wanted a showy, extravagant look."
With the help of her pilot boyfriend, Michael, Big spent big bucks on plastic surgery -- about $56,000 -- to get her breasts as large as possible. She describes her breast size as a whooping 32 L, according to information she posted on a modeling website.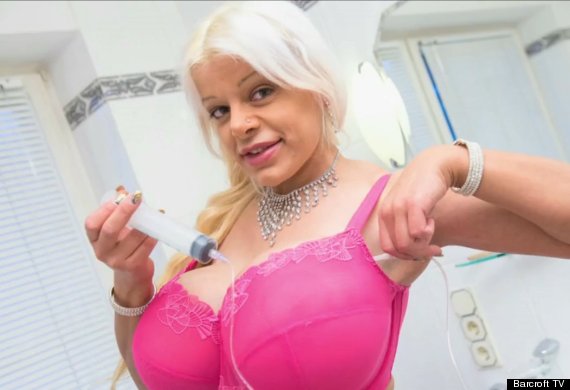 The saline is injected into a long hose that connects into a walnut-shaped port near her right underarm.
Big has had six pump-up procedures in the last three years. The amount of saline in her implants gradually increased from 650 milliliters to 2,500 milliliters per boob. Ultimately, she dreams of a injecting 5,000 milliliters of saline in each breast.
San Diego-based cosmetic surgeon Dr. Barry Handler told HuffPost that the method Big uses to increase her bust is fairly common, but is used more for reconstructive patients than those who want cosmetic surgery.
He said the FDA doesn't usually allow U.S. doctors to insert breast implants above 800 milliliters, but there is one that can go to 960 milliliters that is allowed for obese patients.
As big as Big's breasts are, they are not the biggest bust implants in the world -- or even in Germany.
But Big's big boobs have paid off; she's in high demand with photographers like Ortwin Schneider.
Big has dealt with severe infections as a result of her surgeries, but she says the reaction she gets is worth the risk.
"When I am walking around in a skin-tight T-shirt, I have seen people on a bike riding past and then driving into a lamp post," she told Barcroft TV.
SUBSCRIBE AND FOLLOW
Get top stories and blog posts emailed to me each day. Newsletters may offer personalized content or advertisements.
Learn more