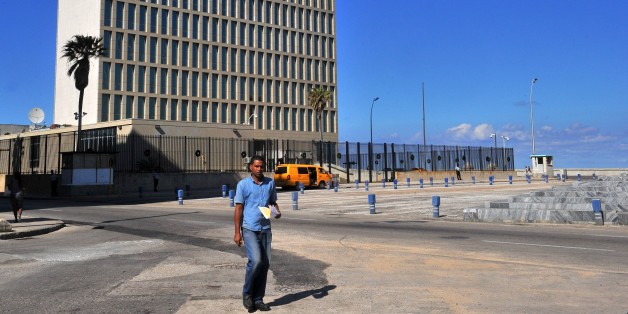 The U.S. and Cuba joint announcement on Dec. 17 that they would work toward re-establishing diplomatic relations seemed to symbolize the dawning of a new era for the Cold War foes.
But in the weeks that followed, Cuban officials have demanded that the U.S. meet ambitious conditions before describing diplomatic relations as "normalized," highlighting obstacles that remain to mending the fractured relationship.
The Cuban demands haven't derailed diplomatic talks, scheduled to continue in Washington next month. But they show that, even as the U.S. and Cuba roll out the closest thing to diplomatic rapprochement in a half-century, major divisions continue.
U.S. law mandates that the federal government support the dismantling of Cuban communism. The U.S. trade embargo against Cuba, for example, is aimed at toppling the Communist regime.
Wayne Smith, a former head of the U.S. Interests Section in Havana -- the top American diplomatic post -- told HuffPost that he expects diplomacy to improve, but the relationship will remain tense.
"Yes, we're going to move toward diplomatic relations, but we are a long way from normal relations," Smith said. "Still, it's good that we're talking. And apparently we're going to have embassies to talk about these things that we basically disagree about."
Arturo López-Levy, an academic who studies the Raúl Castro administration, said any improvement in communication marks progress, but harmonious relations remain a lofty goal.
"They are trying to get a deal on this issue," López-Levy said, referring to the re-establishment of embassies. "And I think that part of getting the deal is about being constructive, about framing that this is not about normalization -- this is about building a relationship. If you try to set very ambitious goals, you are setting yourself up for disaster."
Others, however, say the conditions Cuba has imposed on improving diplomatic relations point to backtracking by the Cuban government.
"Here's the thing -- the normalization of relations with Cuba scares the Cubans," Jason Marczak, a Latin America expert at the Atlantic Council, told HuffPost. "The Cubans were not prepared for everything the president announced on Dec. 17. The fundamental structure of the [Cuban] regime is based on slow, orderly transition and what was announced on Dec. 17 was a series of potentially very fast and chaotic movements that could fundamentally reshape the island."
The Obama administration ordered the State Department to review Cuba's inclusion on the list in December when announcing the changes in diplomacy. The list subjects Cuba to additional sanctions beyond the embargo.
An updated version of the list will be published in April, according to the news service EFE.
7 Reasons The Cuba Embargo Needs To Go
SUBSCRIBE AND FOLLOW
Get top stories and blog posts emailed to me each day. Newsletters may offer personalized content or advertisements.
Learn more