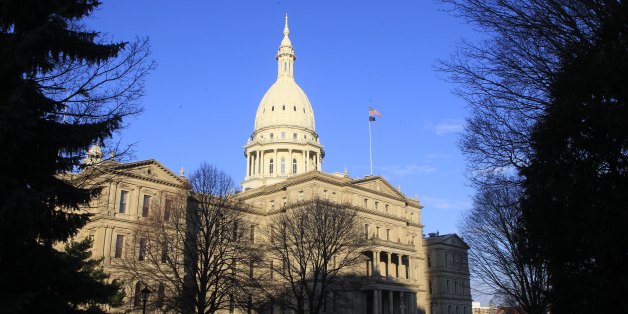 Michigan state Sen. Virgil Smith (D-Detroit) introduced a Senate joint resolution last week to allow the death penalty in the case of the first-degree murder of a police or corrections officer killed in the line of duty. Michigan first banned executions in 1847; because the ban has been enshrined in the state constitution since 1963, the change would require a two-thirds majority vote in the state House and Senate as well as a majority vote by the people in the next election.
On Monday, just days after Smith made his proposal, an incident near his district showed the kind of danger police face. A Highland Park officer was injured while conducting a raid when a suspect inside the house shot him in the leg. He is expected to recover. In an unrelated incident Saturday morning, an off-duty Highland Park reserve police officer was shot to death while working security at a nightclub, allegedly by a man he had earlier forced to leave the venue.
Walter Jennings of Detroit has been charged with first-degree murder in the officer's death. If Smith's resolution were already in effect, it still wouldn't apply in Jennings' case, as the officer was off-duty.
Kathy Swedlow is a professor at Thomas M. Cooley Law School in Lansing, Michigan, where she teaches death penalty law and previously ran the school's initiative to exonerate wrongfully convicted prisoners. She said there's some possibility enacting the death penalty for police murders could eventually lead to expanding the punishment to other crimes, but her primary concern is why Michigan would repeal its ban in the first place.
"It's a horrible idea," Swedlow told The Huffington Post. "It's not particularly well thought through, the idea that we would bring the death penalty back."
Swedlow cited numerous problems other states have had since the death penalty was federally reinstated in 1976, such as determining a method that is considered humane. Lethal injection has primarily been used over the electric chair in recent years for that reason, but several botched executions have lead to criticism and a challenge to Oklahoma's lethal injection procedures that will be heard by the U.S. Supreme Court.
"It seems to me that if we have this near-40-year history of states tinkering with the death penalty and not being able to get it right, Michigan citizens should ask why we think we're smarter and we can do something that no one else would be able to do," she said.
Smith does have backing from across the aisle, with co-sponsorship by Senate Majority Leader Arlan Meekhoff (R-West Olive) and Majority Floor Leader Mike Kowall (R-White Lake).
However, the resolution has been referred to the Senate Judiciary Committee, where the chair, Sen. Rick Jones (R-Grand Ledge), is reluctant to bring it to a vote. Jones worked at a sheriff's office for several decades and was shot twice, according to MLive, but opposes the death penalty because of the possibility of false conviction.
"We cannot dig a man up and say, 'Sorry, we made a mistake,'" Jones told MLive.
Michigan Catholic Conference President and CEO Paul Long also opposed Smith's resolution and said in a statement that the MCC "will devote the full weight of its organization to oppose and defeat any effort to allow for state-sanctioned murder."
Also on HuffPost:
Capital Punishment Methods Through History
SUBSCRIBE AND FOLLOW
Get top stories and blog posts emailed to me each day. Newsletters may offer personalized content or advertisements.
Learn more