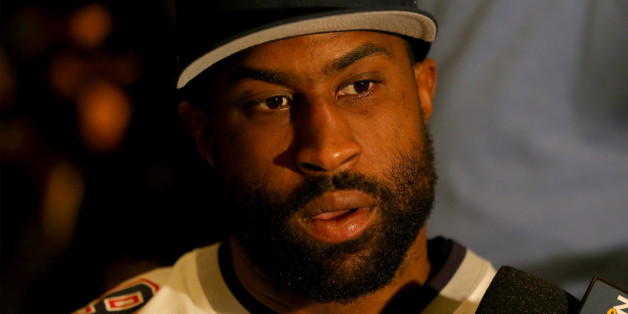 New England Patriots cornerback Brandon Browner did not mince words when he slammed Kanye West for the stunt he pulled over Beck's Album of the Year win at Sunday's Grammy Awards.
West jumped on stage when Beck's "Morning Phase" beat out Beyonce's "Beyonce" for the night's biggest award. Many initially thought he was poking fun at his infamous interruption of Taylor Swift at the 2009 Vide Music Awards, when the country star took home the award for Best Female Music Video over Queen Bey, but the rapper later clarified that he was not kidding around, saying: "Beck needs to respect artistry and he should've given his award to Beyonce."
KANYE WEST is a sucka! Everybody don't listen to Beyoncé. Second time he tried to steal somebody shine. First time it was a 15 yr old girl
Kanye try and play that I'm weird because of my genius. Non of the greats pull that stupid ish. Meaning Marley, Mike Jack, Tupac, Jayz etc
Peep who he tried Beck and Taylor Swift. Real tough guy. If only I could've been Beck for one night. Kanye would be rapping thru the wire
The 30-year-old cornerback and Super Bowl winner did give credit where credit it due, however.
He also said that West should know better and referred to Yeezy as "Sponge Bob."
Marvin Gaye Al Green Betty Wright Anita Baker Prince Mike Jack Bob Marley etc... They taught us better then that #goodvibes
Mary J Lenny Williams En Vogue SWV! Boi quit playing. You messing up are youth! Get it together. U got talent use it til then #spongebob
Classics are songs(WE)all know. Montell Jordan "this is how we do"The majority know word for word. Name a sponge bob song we know word4word.
Don't be afraid of what people's opinions, real music is what people want to hear
Beyoncé the truth tho! Seriously I mean that. This is not about her.
Did Kanye get a award last night? I think he was just there so he won't get fined ( I'm in beast mode) shot out the realist Marshawn
"You make yourself look small and petty and spoilt," she wrote. "In attempting to reduce the importance of one great talent over another, you make a mockery of all musicians and music from every genre, including your own. Grow up and stop throwing your toys around. You are making yourself look like a complete twat."
SUBSCRIBE AND FOLLOW
Get top stories and blog posts emailed to me each day. Newsletters may offer personalized content or advertisements.
Learn more