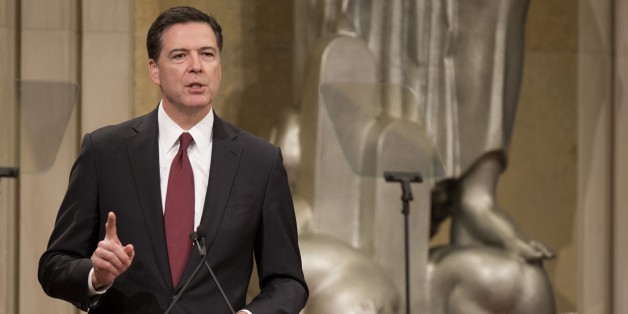 WASHINGTON -- The director of the FBI said on Thursday that law enforcement officers may develop a cynicism that can lead them to treat minorities unfairly, and acknowledged the need for a debate about race and policing.
FBI Director James Comey, in a speech on race and law enforcement delivered at Georgetown University, said that throughout American history, law enforcement has often enforced "a status quo that was often brutally unfair to disfavored groups." Citing the song "Everyone's A Little Bit Racist" from the Broadway musical "Avenue Q," he said that many in America's "white-majority culture have unconscious racial biases and react differently to a white face than a black face."
The speech appears be the first time that a director of the FBI has so directly addressed the way that race influences law enforcement. Comey said that decades ago, his Irish ancestors likely faced their own problems with discrimination, but said that "little compares to the experience on our soil of black Americans."
While Comey heaped praise upon the nation's law enforcement officers, he also said he was "not looking to let law enforcement off the hook" as he called for an "open and honest discussion" about the role that race can play in the justice system.
"We must better understand the people we serve and protect -- by trying to know, deep in our gut, what it feels like to be a law-abiding young black man walking on the street and encountering law enforcement," Comey said. "We must understand how that young man may see us. We must resist the lazy shortcuts of cynicism and approach him with respect and decency."
The FBI director also said that the federal government needed to to a better job tracking the number of deaths caused by law enforcement. Comey said his staff had been unable to determine the number of people shot by the police in the protests in Ferguson, Missouri, that followed the death of Michael Brown in August. Having more information about what is happening in law enforcement across the country, Comey said, is the first step towards addressing the problems.
The speech by Comey -- a white Republican who served in the George W. Bush administration and donated to the presidential campaigns of John McCain and Mitt Romney -- did not immediately inspire the type of political backlash that Attorney General Eric Holder and President Barack Obama have sometimes faced when they have spoken on the contentious issues of race and law enforcement.
Comey also spoke about the need to diversify the ranks of his own agency, saying that the FBI was currently "overwhelmingly white and male." He added that one of his proudest moments as FBI director so far was sending agents to Ferguson to investigate Brown's death, saying it was a "priceless gift" that the agents were trusted by members of the community.
The Justice Department is not expected to pursue civil rights charges against former Ferguson Police Officer Darren Wilson for Brown's death, but the decision has not been officially announced.
SUBSCRIBE AND FOLLOW
Get top stories and blog posts emailed to me each day. Newsletters may offer personalized content or advertisements.
Learn more