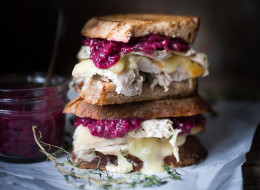 One of the greatest things the French ever gave us (besides pastries, of course) is cheese. We will forever be grateful to them for blessing us with nearly 400 varieties of cheese -- all of them better than the last. We're especially grateful for brie, with its extra buttery flavor and silk texture.
When we get brie cheese in our hands we don't just eat it with bread and butter. We make some truly awesome dishes with it. And we're not only talking about baked brie recipes, though those are very important. Appetizers, pizzas and grilled cheeses are all infinitely better with the help of brie cheese, as are unsuspecting dishes like nachos and soup.
If you have a tendency to eat all your brie right away with bread or crackers and can't save it to use in recipes, we have a good solution for you. By two wheels. Trust us, you're going to want to experiment with brie in every recipe you make. Here are 29 brie recipes to convince you.
Cranberry, Butternut And Brussels Sprout Brie Skillet Nachos

Half Baked Harvest

Caramelized Onion Tart With Gorgonzola And Brie

Simply Recipes

Baked Brie With Cranberry Relish Appetizer

Reluctant Entertainer

Gingery Steak And Brie Sliders With Balsamic Cranberry Sauce

Half Baked Harvest

Nutella Brie Bites

Bev Cooks

Leftover Sweet Potato Casserole, Brie And Bacon Grilled Cheese Casserole

How Sweet It Is

Strawberry Bruschetta Grilled Cheese

Foodiecrush

Baked Brie With Hazelnuts And Thyme

Justina Blakeney

Creamy Brie Four Cheese Mac And Cheese With Buttery Ritz Crackers

Half Baked Harvest

Brioche Circles With Brie And Cherries

fiveandspice

Roasted Turkey Cranberry And Brie Sandwich

Heather Christo

Grilled Brie Topped With Slow-Roasted Sunblushed Tomatoes

bellini

Grilled Brie Sandwich Recipe With Pear & Hazelnuts

Cookin' Canuck

Grilled Chicken Burger With Brie

geminitb/Food52

Brie And Prosciutto Melt

Sarah Schatz

The Best Baked Brie With Balsamic Cherries

Averie Cooks

Bite-Sized Baked Brie

Joy the Baker

Brie And Cheddar Apple Soup With Cinnamon Pecan Oat Crumble

Half Baked Harvest

Blueberry Brie Scones

Completely Delicious

Pumpkin Pecan Baked Brie

Damn Delicious

Mushroom And Brie Pizza With Whole Wheat Beer Crust

This Gal Cooks

Apple Crisp Baked Brie

Half Baked Harvest

Roast Beef And Brie Breakfast Tarts Recipe

i am a food blog

Basic Baked Brie

Spoon Fork Bacon

Buckwheat Crepes With Brie And Honey Sauteed Swiss Chard

Food52

Baked Brie With Rum Soaked Fig Cranberry Sauce

Pass The Sushi

Baked Brie In Puff Pastry Crust With An Apricot Brown Sugar Filling

Adventures In Cooking

Turkey Brie Grilled Cheese Sandwich With Cranberry Mustard

Feasting At Home

Baked Brie Without A Recipe

Food52
Want to read more from HuffPost Taste? Follow us on Twitter, Facebook, Pinterest and Tumblr.