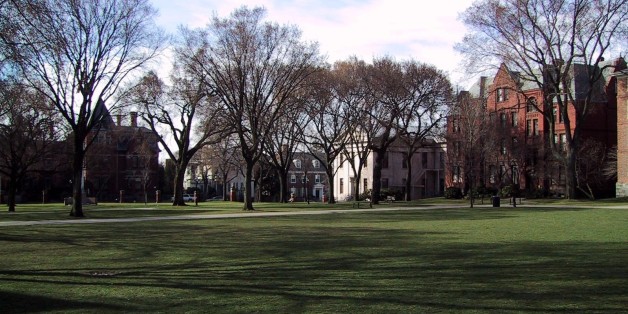 Brown University in February dropped an investigation into whether a male student slipped date rape drugs into a woman's drink at a fraternity party, and found another male student not responsible for sexually assaulting one of the two women who drank from it, documents obtained this week by The Huffington Post show.
The university blamed the labs it hired to test for the drugs for providing faulty toxicology reports, and earlier this week announced it would lower the sanctions against Phi Kappa Psi, the fraternity where the drugging allegedly took place.
Brown University is already under federal investigation by the U.S. Department of Education into how it handles sexual violence on campus. Both men and women have come forward to accuse the school in Providence, Rhode Island, of failing to adequately punish offenders. And now, the messy handling of the drugging investigation has left alleged victims angry they were denied a hearing, while the fraternity is accusing the school of unjustly punishing it.
Two women, who asked to remain anonymous, say their drink was spiked with a date rape drug at a Phi Psi fraternity party on Oct. 17, 2014. A female senior had asked a male student for her own drink instead of the punch being served at the party because she was concerned about her food allergies. Both she and her friend, a junior who drank from the same cup, say they felt physical effects immediately and remember struggling to move on their own. The junior said a separate male student, not from the fraternity, sexually assaulted her after the party.
The women reported the alleged drugging and assault to the university on Oct. 18. Brown opened an investigation, collecting hair and urine samples from the women to be sent to two labs to be tested for date rape drugs, such as gamma hydroxybutyric acid (GHB). Carlson Company was contracted to conduct a hair test on the female student with the allergies, and Lifespan Laboratories to conduct a urine analysis on her friend who had reported being sexually assaulted. By the end of November, both tests had come back concluding GHB was present in the women, according to toxicology reports reviewed by The Huffington Post.
But the results were put in doubt in December after the student accused of drugging the women had his own expert review the toxicology reports, according to university documents and emails. That student obtained a court injunction on the hearing that month; the school then dropped the charges in February, school records show.
At issue, multiple experts who reviewed the toxicology reports questioned whether Brown had received tests that showed endogenous, or naturally occurring, levels of GHB, or exogenous levels, which would suggest a drugging. The toxicologist hired by Brown said the positive results suggested naturally occurring levels, but noted it's rare to catch evidence of a GHB drugging in these tests.
Upon further review from independent experts, the school decided in February the toxicology results were "inconclusive" because the labs had not followed proper testing protocols. It cut in half the four-year suspension in it had given Phi Psi in January, when it deemed the fraternity had "facilitated" conditions leading to sexual violence.
On Feb. 23, Phi Psi started distributing on campus and to media outlets a statement that raised doubts about the results of one GHB test and said the second came back "conclusively negative." This language is disputed, but members did not respond to request for comment on the discrepancy.
The women question Brown's decision to drop conduct charges, since they say the university told them their testimony was credible enough to at least hold a hearing. Other students who have been involved in the student conduct process say hearings are often held based on complainant and witness testimony, and questioned whether the investigation was derailed by a conflict of interest.
"There was a concern raised because the individual who allegedly administered the GHB at the party, his father is a member of Brown's corporation and donated a lot of money to the school," said Katie Byron, a senior and member of the university's sexual assault task force. Two other students with knowledge of the case made the same claim, but would not go on the record with the accused student's name due to fear of retaliation.
The alleged victims also question why Brown chose Carlson Company, since it's just a third party that doesn't actually do any testing and because it has a history of problems. Carlson did not respond to request for comment. Lifespan said privacy laws prevent it from saying anything.
Brown also declined to comment, citing federal privacy law. The school said in a statement on Sunday that Brown "regret[s] that the testing in this matter has become a point of controversy."
"This case has been complicated and difficult," wrote Vice President for Campus Life Margaret Klawunn and Executive Vice President for Planning and Policy Russell Carey. "The University had not previously been presented with a credible report of students being served a drink mixed with a date rape drug. We have learned a great deal from the investigation of these matters."
In February, Brown found a second student not responsible for sexually assaulting one of the women that reported being roofied at the frat party. The alleged assault victim was told her inconsistent memory made it difficult to conclude the male student was guilty.
"Even sober people can trip on pavement at night," the university wrote in an appeal decision to the complainant, in response to her description of being unable to walk properly that night. Brown confirmed that her having trouble with unlocking a door and needing to lean against the wall is "an even clearer manifestation of diminished motor skills." However, the school could not determine whether she was so intoxicated that the accused should have "reasonably known" she was not capable of giving consent.
Since she only had "flash memories" of not being able to move during the incident, the university added, it was difficult for her to effectively contradict the accused student's version of events.
The alleged victim said she feels she was in a no-win situation. She can't provide a full recollection of the night because, as she believes, she was drugged.
At least one witness from the night of the alleged drugging still believes the women had their drinks spiked. A roommate of the woman with the allergies has worked as an EMT for a year and said he checked her vital signs after she stumbled home from the Phi Psi party.
"Her vital signs and her behavior that night were not at all symptoms of alcohol and I'm very confident of that," said the roommate, who requested anonymity to avoid identifying the alleged victim. "It was not alcohol given to her."
SUBSCRIBE AND FOLLOW
Get top stories and blog posts emailed to me each day. Newsletters may offer personalized content or advertisements.
Learn more