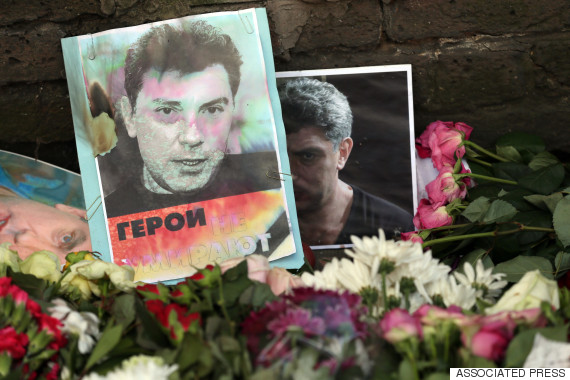 Flowers are placed outside the Russian Embassy for the slain Kremlin critic Boris Nemtsov in Kensington, London, Tuesday, March 3, 2015. (AP Photo/Tim Ireland)
Under the arrangement he made with investigators, Pavlyuchenkov was obligated to fully confess his role in Politkovskaya's murder and to name its mastermind, Novaya Gazeta reported. But Pavlyuchenkov has done neither, the journalist's family and colleagues said.
A cache with a gun that killed Estemirova and phony police photo identification with Bashaev's picture was "found" -- but from the text of expertise insist that Bashaev could not have fabricated this documentation; in addition, the investigation has not taken an interest in the powerful guided missiles found in the cache. They also found a car, VAZ-2107 -- the same brand as the car which Estemirova was taken in -- and its plates, which state that the car belonged to Bashaev, and a silencer to the gun. Only here there is no trace of the abduction, which couldn't help being left; according to another expert, Natalya was shot not using a silencer. The list of impossible to ignore "oddities" does not end there.
More from The WorldPost's Forgotten Fact Series:
SUBSCRIBE TO & FOLLOW WORLD POST