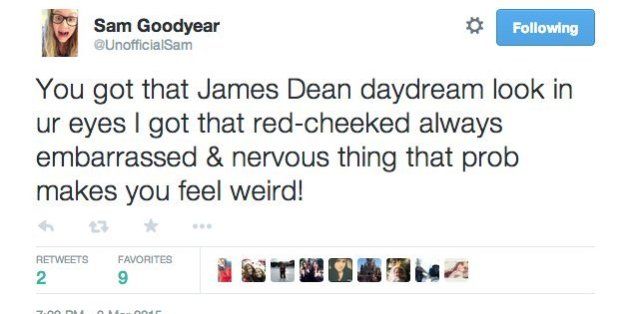 Every week, we round up the best 140-character quips and insights from our esteemed blogging team -- and other equally awesome teen tweeters. Scroll down to read the latest batch and share your own suggestions by following @HuffPostTeen!
You know that great moment where you finally understand math? Yeah, it hasn't hit me yet.
my only talent is being able to say the alphabet backwards
Just ate a half of sleeve of thin mints and I have no regrets
why does my hair always look the best when i am alone in the middle of the night watching netflix
You got that James Dean daydream look in ur eyes I got that red-cheeked always embarrassed & nervous thing that prob makes you feel weird!
I get excited when I see a police officer waiting for a speeder in a school zone.... and then it happens and I'm like JUSTICE IS SERVED.
I wrote a satirical essay about dogs but it's just a ruff draft
my apush teacher did not just compare the reaction to johnson's plan for reconstruction to the dress.. that did not happen.
my closet ranges from a 12 y/o girl to a mom with 3 kids
Why do school when you can lay on the floor and listen to Into The Woods
Being a senior has its ups and downs. Sometimes the hardest part of my day is putting in contacts, other times I fail three tests in a row😬
#DearMe wear those sweatpants that make swishy noises with pride, gurrrl.
All of my friends love my mom more than me lol 😂
Do some people see it as an hour delay while others see it as no school? #TheDress
Just beat a 7 year old in a staring competition😈 get like me😂
Dear School:
I only had a bit of energy left after spending the day with you and used it to write instead of doing homework.
Best regards.
SUBSCRIBE TO & FOLLOW LIFESTYLE
HuffPost Lifestyle is a daily newsletter that will make you happier and healthier — one email at a time. Learn more