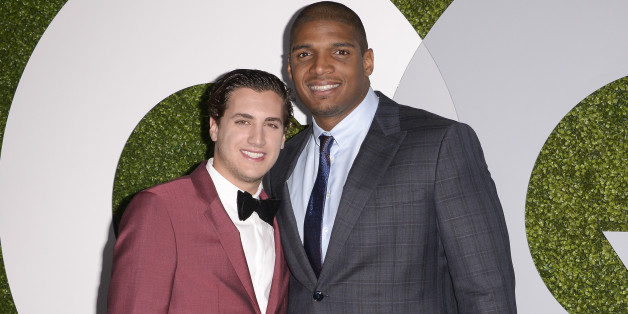 It's been quite a year for Michael Sam.
Perhaps the most iconic moment of Sam's stint in the spotlight came when he kissed his boyfriend Vito Cammisano on national television (ESPN nonetheless!) when he received the news that he had been successfully drafted into the NFL.
"My fiancé gave me the strength [to come out]. The challenge I get now is, why are you not dating a gay black guy? Why are you dating a white guy? Why would I do that? Why would I leave someone I fell in love with and have been through so many challenges with?"
Sam also told the crowd that he's not the only gay NFL player, "I'm just the only one that is out," and predicted that "there will be a time [when they come out]. There's going to be a day."
The former Southeastern Conference Defensive Player of the Year acknowledged that he understands why others haven't come out publicly.
"They want to protect their livelihood," Sam said. "But there will be a time [when they come out]. There's going to be a day."
Sam and Cammisano recently took part in a documentary about their relationship, in which the pair discuss their love story and the ups and downs of their commitment to one another. Head here for more.
SUBSCRIBE AND FOLLOW
Get top stories and blog posts emailed to me each day. Newsletters may offer personalized content or advertisements.
Learn more