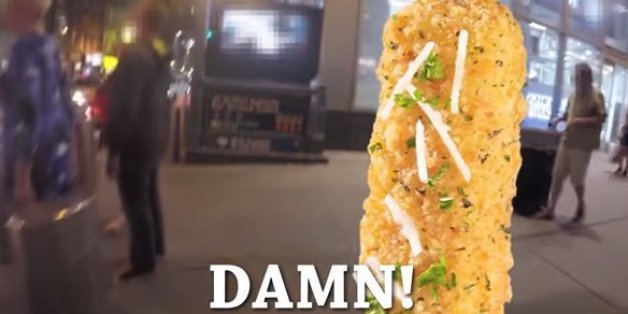 TGI Fridays' new ad, which parodies a now-famous video of a woman being catcalled on the street, has some people losing their appetites.
The Fridays ad replaces Shoshana B. Roberts -- the woman at whom dozens of men lobbed crass comments in a viral video released last year -- with various appetizers from the chain restaurant's menu. The commercial advertises TGI Fridays' all-you-can-eat deal, which offers endless helpings of any one appetizer for $10 per person.
In the original video -- created by the ad agency Rob Bliss Creative, and shot over the course of 10 hours -- men on the streets on New York City yelled sexual comments at Roberts, followed her and insisted that she revel in the attention. The ad uses scenes from the original footage where men shout "damn" or "nice," but in Roberts' place are a mozzarella stick, a cheddar-and-bacon-encrusted potato skin and a dumpling.
Advocates who work to combat street harassment say the ad campaign -- dubbed #AppCalling -- trivializes and pokes fun at what is a traumatic experience for many women.
"I'm really disgusted that TGI Fridays would make light of a serious issue like street harassment and turn it into a gimmick to try to sell food," Holly Kearl, executive director of the nonprofit Stop Street Harassment, told The Huffington Post on Friday.
"I felt particularly upset about this parody because Shoshana, the actress who was in the original, faced death threats for just showing what happens when you walk down the street," Kearl added, referring to the backlash over the original video.
Street harassment is a hugely prevalent issue. A national study commissioned last year by Stop Street Harassment found that 65 percent of women and 25 percent of men reported being harassed on the street. Half of both the women and the men said the harassment started before they were 17 years old.

"There is nothing funny or lighthearted about sexual harassment," Debjani Roy, the deputy director of Hollaback, a nonprofit devoted to ending street harassment, told HuffPost. "The fact that they transposed food items on the actual video of Shoshana being harassed is really insulting."
TGI Fridays said the video was meant to be taken in jest.
"We worked with the original creator of the video to develop a satirical piece, objectifying food, not people," the company said in a statement to HuffPost. "It condones AppCalling, not cat-calling."
Made Movement, the agency hired to create the ad for TGI Fridays, did not respond to a request for comment.
Rob Bliss, the marketer behind the original catcalling video, said the Fridays commercial isn't the first comedic parody. He told HuffPost that he'd allowed the company to use his footage.
"I don't see how this is anything new," Bliss wrote in an email to HuffPost. "People have been making parodies of this video for a long time now."
Still, the commercial marks the first time that scenes from the catcalling video have been used to sell a product for a major company. When the restaurant chain first launched its "endless apps" promotion in July, financial analysts told HuffPost the move seemed like a desperate attempt to spur weak sales.
"It's worse [than other parodies] because it's an advertisement," said Kearl. "This is not an issue that should be trivialized in this way."
SUBSCRIBE AND FOLLOW
Get top stories and blog posts emailed to me each day. Newsletters may offer personalized content or advertisements.
Learn more