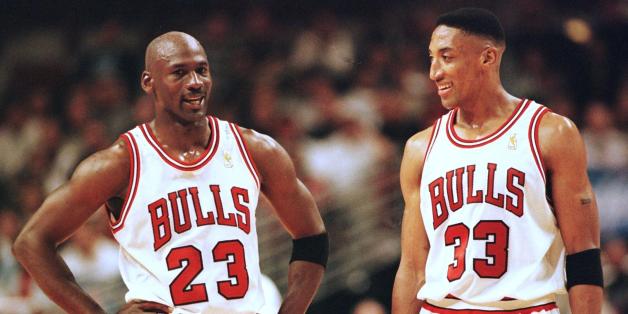 On March 18, 1995, following his first retirement from the game, basketball legend Michael Jordan announced his return to the sport via fax.
Two decades later, on the anniversary of those two memorable words, Jordan's Chicago Bulls teammate Scottie Pippen took to Twitter for a walk down memory lane.
I see it's been 20 years since two of the most famous words in sports history: "I'm back"
To be honest, after MJ retired the first time in 1993 I thought he was done. I think a comeback was the furthest thing on his mind.
Jordan retired from the NBA after the 1992-93 season. He had just helped the Bulls clinch a third straight NBA Finals championship. He was only 30 years old.
I'll always remember how shocked we were MJ walked away from the game like that. We were ready to go for a 4th straight.
But Jordan said that he'd lost the desire to play basketball professionally, adding that his father's 1993 murder had played a role in his decision.
I kept tabs on him as he played baseball but we didn't talk all that often. I gave him some space as he needed a break from basketball.
I really didn't know how much he loved baseball until that point. He was pretty passionate about the game and showed he could hold his own.
In 1995, Jordan's desire to play basketball seemed to have returned. Pippen recalled when his teammate came back to Chicago's Berto Center, where the Bulls practiced at the time.
When MJ started showing up at Berto spring of 1995 for practices, it didn't take long to see he was serious about getting back in the game.
We had a great year in 1993-94, no thanks to Hue Hollins, but the following season was challenging without Horace Grant.
Horace was a huge piece for us so to be without him and Michael felt like starting over to some degree.
We all felt after several practices that MJ's return was inevitable but once he said "I'm back" it really gave us a lift.
He wore 45 of course and we didn't think too much about it in the moment but it wasn't the 23 we were used to seeing.
MJ had to shake a little rust off but he showed at the Garden his swagger was back in the double nickel game.
I think the Knicks were tired of him killing them all night so they over compensated on that last play and MJ found @34billy42 for the win.
The "double-nickel game" was, as ESPN pointed out, "Jordan's fifth back in a Bulls uniform and first against the Knicks. He scored 55 points in a 113-111 win at Madison Square Garden."
Jordan's return to the Bulls, however, was not smooth-sailing. The team would go on to lose to the Orlando Magic in the Eastern Conference semi-finals.
Losing to Orlando was tough. It had been a long time since we had MJ and lost in the playoffs. But it fueled us. He took it hard.
It certainly wasn't game over for the Jordan-Bulls legacy, though. Dennis Rodman joined the team before the 1995-1996 season kicked off, and the Bulls would eventually win three more NBA championships.
We added some pieces to the roster, including one of the great rebounders of all time in @dennisrodman, and came back ready to work.
So here's to 20 years ago and ultimately, three more championships.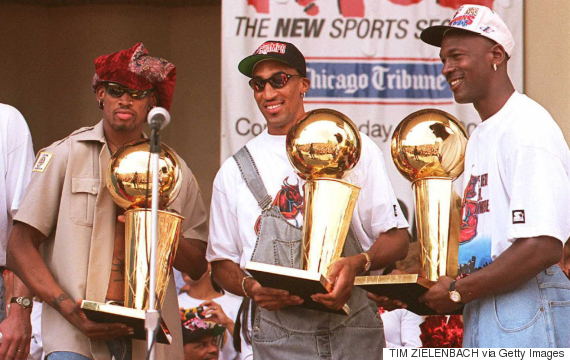 Chicago Bulls players Dennis Rodman (L), Scottie Pippen (C) and Michael Jordan (R) hold three of the team's four recent NBA championship trophies at a 18 June, 1996 rally in Grant Park in Chicago.
During his illustrious career in the sport, Jordan won two Olympic gold medals, and was named the NBA's Most Valuable Player five times and an NBA All-Star 14 times.
SUBSCRIBE TO & FOLLOW THE MORNING EMAIL
The Morning Email helps you start your workday with everything you need to know: breaking news, entertainment and a dash of fun. Learn more