We're well into the second round of March Madness and already there is one controversial call that everyone can't stop talking about: The SMU goaltending call that ended its season.
With just 13 seconds left in the game and up 59-57, SMU's Yanick Moreira tipped a three-point attempt by UCLA's Bryce Alford.
Although Moreira clearly touched the ball, the biggest point of contention is whether Alford's shot actually had a chance of going in -- a requirement for a goaltending call to be made, per the NCAA's rulebook: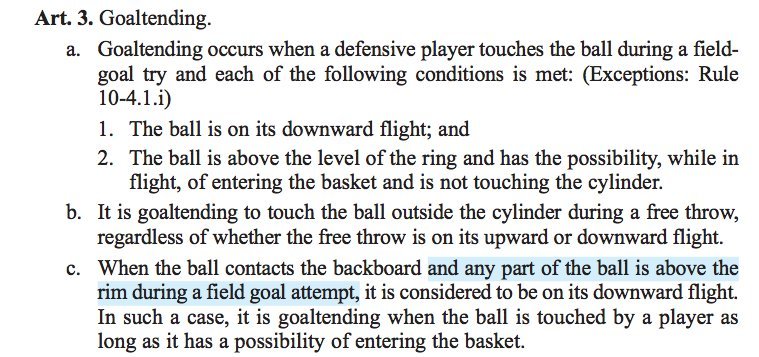 Explaining the officials' call after the game, even the NCAA's National Coordinator of Officiating John Adams said the ball looked "a little bit off to the right," before adding, "we're now at the hypothetical once the ball is touched."
But while everyone debated whether Moreira did in fact goaltend, the Moreira took all responsibility in an emotional press conference after his team's 59-60 loss. "It's all my fault," he said, fighting back tears. "I take the blame."
With such a highly-contested call, why not review it? SMU's coach Larry Brown even questioned why the call wasn't reviewed. Well, turns out the refs couldn't do that either, per NCAA rules. In fact, the rulebook says officials cannot use instant replay to "determine whether basket interference or goaltending occurred." They could use instant replay to determine whether Alford's shot was a 2 or 3-point attempt.
UCLA was awarded the three points and on its next possession, SMU failed to answer with another basket before the end of the game. But even after the clock ran out, plenty took to Twitter to debate the goaltending call.
The key component of the goaltending definition: "has a possibility of entering the basket" That had no chance.
It wasn't going in. But, that's goaltending.
I see nothing controversial with that call. That's goaltending.
My take on goaltend heard round the world: Shot wasn't going in. Missed shots that are rolling off the rim are goaltended, too. Right call.
SUBSCRIBE TO & FOLLOW THE MORNING EMAIL
The Morning Email helps you start your workday with everything you need to know: breaking news, entertainment and a dash of fun. Learn more