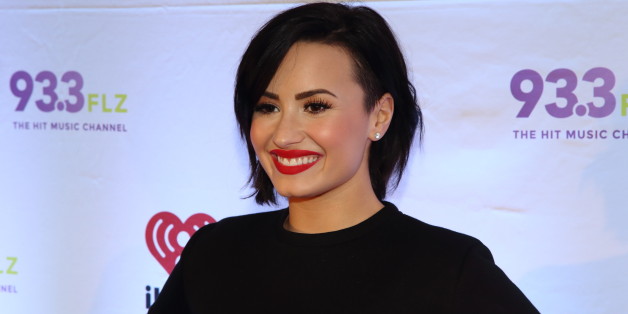 "I have never been remotely ashamed of having been depressed. Never. What's to be ashamed of? I went through a really rough time and I am quite proud that I got out of that."
"It's my mission to share this with the world and to let them know that there is life on the other side of those dark times that seem so hopeless and helpless. I want to show the world that there is life -- surprising, wonderful and unexpected life after diagnosis."
"Now, the stigma surrounding mental health isn't surprising -- at all. A mental illness generally suggests that something is wrong with the brain. Our brain is our control center. It's responsible for everything we do, and the idea of something being wrong with the brain generally suggests that we're out of control. And as humans we hate that idea. We hate it so much that we just don't talk about it. We sweep it under the rug and pretend that it's not there. But it is. Mental illnesses are a thing. They're real, and they're very present. And we need to talk about them."
"Now that I was famous, I was afraid I'd never find somebody again to love me for me. I was afraid of making new friends. Then one day my mom said, 'Why do you think a person wouldn't love you? Don't you know how smart and sweet and beautiful you are?' That's when I decided I only have two choices: I can give up, or I can go on."
"[Seventeen Magazine] asked me what I was like when I was 17 and I wasn't going to say, 'I was great!' because I wasn't. I was suffering from a mental disorder. But what I so often find is that it becomes about the facts. 'How much weight did you lose? How were you treated? Were you hospitalized?' And that's not important to me. What is important is to talk about the feelings, to talk about the help that young girls, and young men, who have this problem can get if they find that they are suffering."
"[Anxiety] is a mental illness, and nobody likes to use the word 'mental illness.' But it is. And it's not something that people choose to have. I didn't choose when I was 14 to decide to have panic attacks for nine years and for it to ruin loads of opportunities for me, but that's just what happened. And you can either let it rule your life and let it make you miserable or you can just think, 'No, I don't want to live my life like that anymore.'"
"I take medication daily and have for many years. I also try to exercise a lot, because there's some evidence that exercise lessens the symptoms of anxiety, and I try to use the strategies that I've learned in cognitive behavioral therapy to cope with my illness. But it's a chronic illness and it hasn't, like, gone into remission or anything for me. It's something I live with, something that I've integrated into my life. And we all have to integrate stuff into our lives, whether it's mental illness or physical disability or whatever. There is hope. There is treatment. You are not alone, and while I know the struggle feels at times completely hopeless and futile, there is a far shore for the vast majority of people, and I wish you the best."
"I can't say what exactly changed my brain or what caused something in my brain to switch, but all I know is that one morning I woke up and decided I didn't want to be this person anymore. So over the next year, I forced myself to get my life back together. It wasn't easy at all, and I often relapsed back into depression. I eventually learned to talk about my feelings, create healthy relationships and most importantly to love myself."
"I learned that my sadness never destroyed what was great about me. You just have to go back to that greatness, find that one little light that's left. I'm lucky I found one little glimmer stored away."
SUBSCRIBE TO & FOLLOW LIFESTYLE
HuffPost Lifestyle is a daily newsletter that will make you happier and healthier — one email at a time. Learn more