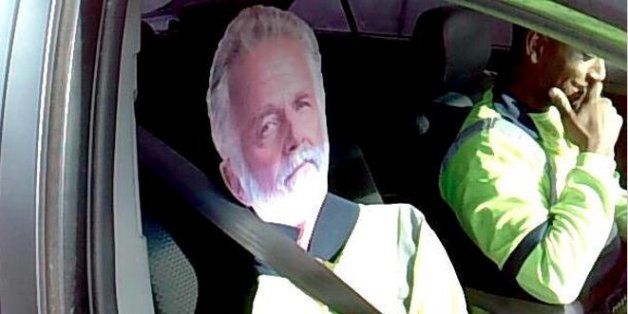 Washington State Police have issued what may be the "most interesting traffic citation" ever.
It wasn't just any face, it was that of Jonathan Goldsmith, the actor who plays "The Most Interesting Man in the World" in Dos Equis ads, KOMO TV reports.
That's when things got "interesting," according to Washington State Patrol spokesman Guy Gill.
"[The driver] couldn't have used a more recognizable face," Gill told ABC News. "The trooper and the driver had a good laugh about it but he was cited anyway... Our trooper give him a $124 ticket for violating [High Occupancy Vehicle] lane laws."
The driver, who has not been identified by name, did make a half-hearted attempt to go through with the ruse, telling the officer, "He's my best friend. He just sits here and doesn't talk," Gill told the New York Daily News.
The Washington State Patrol immortalized the incident with this tweet:
I don't always violate the HOV lane law...but when I do, I get a $124 ticket! We'll give him an A for creativity! 👮👍 pic.twitter.com/hNbQDuBWfc
Also on HuffPost:
Dumb Criminals: Mugshot Gallery
SUBSCRIBE AND FOLLOW
Get top stories and blog posts emailed to me each day. Newsletters may offer personalized content or advertisements.
Learn more