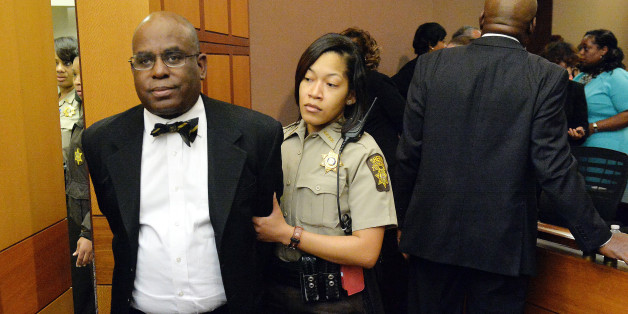 A group of former Atlanta educators convicted in a test cheating scandal were locked up in jail Thursday as they await sentences that could send them to prison for years.

In one of the nation's largest cheating scandals of its kind, the 11 defendants were convicted Wednesday of racketeering for their roles in a scheme to inflate students' scores on standardized exams.
"This is a huge story and absolutely the biggest development in American education law since forever," University of Georgia law professor Ron Carlson said. "It has to send a message to educators here and broadly across the nation. Playing with student test scores is very, very dangerous business."
In the corporate context, prosecutors may take into account the possibly substantial consequences to a corporation's employees, investors, pensioners, and customers, many of whom may, depending on the size and nature of the corporation and their role in its operations, have played no role in the criminal conduct, have been unaware of it, or have been unable to prevent it.
In his view, the only way to really catch the attention of banks is to indict individuals.

"That would send a shockwave through the international finance services community," Gurule said. "It would put the fear of God in bank officials that knowingly disregard the law."
We are frequently on the receiving end of presentations from defense counsel, CEOs, and economists who argue that the collateral consequences of an indictment would be devastating for their client. In my conference room, over the years, I have heard sober predictions that a company or bank might fail if we indict, that innocent employees could lose their jobs, that entire industries may be affected, and even that global markets will feel the effects. Sometimes -- though, let me stress, not always -- these presentations are compelling. In reaching every charging decision, we must take into account the effect of an indictment on innocent employees and shareholders, just as we must take into account the nature of the crimes committed and the pervasiveness of the misconduct. I personally feel that it's my duty to consider whether individual employees with no responsibility for, or knowledge of, misconduct committed by others in the same company are going to lose their livelihood if we indict the corporation. In large multi-national companies, the jobs of tens of thousands of employees can be at stake. And, in some cases, the health of an industry or the markets are a real factor. Those are the kinds of considerations in white collar crime cases that literally keep me up at night, and which must play a role in responsible enforcement.
Aguirre joined the SEC in September 2004. Two days into his career as a financial investigator, he was asked to look into an insider-trading complaint against a hedge-fund megastar named Art Samberg. One day, with no advance research or discussion, Samberg had suddenly started buying up huge quantities of shares in a firm called Heller Financial. "It was as if Art Samberg woke up one morning and a voice from the heavens told him to start buying Heller," Aguirre recalls. "And he wasn't just buying shares -- there were some days when he was trying to buy three times as many shares as were being traded that day." A few weeks later, Heller was bought by General Electric -- and Samberg pocketed $18 million.

After some digging, Aguirre found himself focusing on one suspect as the likely source who had tipped Samberg off: John Mack, a close friend of Samberg's who had just stepped down as president of Morgan Stanley. At the time, Mack had been on Samberg's case to cut him into a deal involving a spinoff of the tech company Lucent -- an investment that stood to make Mack a lot of money. "Mack is busting my chops" to give him a piece of the action, Samberg told an employee in an e-mail.
ALSO ON HUFFPOST:
Political Figures Who Moved On To Wall Street
SUBSCRIBE TO & FOLLOW TRUMP'S FIRST 100 DAYS
How will Donald Trump's first 100 days impact YOU? Subscribe, choose the community that you most identify with or want to learn more about and we'll send you the news that matters most once a week throughout Trump's first 100 days in office. Learn more