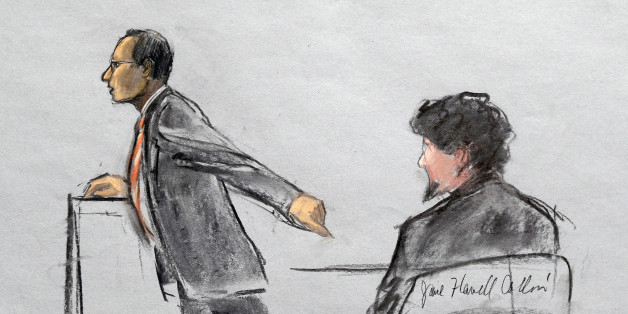 BOSTON -- The bombing of the Boston Marathon in 2013 was "a cold, calculated terroristic act" carried out by Dzhokhar Tsarnaev, who "thought his values were more important than the people around him," according to a prosecutor in the 21-year-old's trial.
Assistant U.S. Attorney Aloke Chakravarty ratcheted up the rhetoric during closing arguments on Monday, as the federal government aims for a likely guilty verdict.
"The defendant brought terrorism to backyards and main streets," said Chakravarty. "He chose a day when the eyes of the world would be on Boston. He chose a day when there would be civilians on the sidewalks."
"He wanted to make a point. He wanted to terrorize this country. He wanted to punish America for what it is doing to his people."
Dzhokhar Tsarnaev, 21, is a Muslim of Chechen descent who immigrated to the United States as a child. His brother Tamerlan Tsarnaev, 26, died in a gunfight with police in Watertown, Massachusetts, shortly before Dzhokhar was arrested.
At the time of the April 15, 2013, attack on the marathon, which killed three and wounded 264, Dzokhar was a struggling college student whom the prosecution said had adopted the beliefs of militant Islam.
The defense countered on Monday that Dzokhar contributed only a supporting role, compared to the lead part his brother played in preparing for and carrying out the crimes.
"We are not asking you to excuse the conduct, but let's look at the varying roles," said Judy Clarke, the lead defense attorney. "We don't deny that Dzhokhar fully participated in the events, but if it were not for Tamerlan, it would not have happened."
"It is important to know who did what and why," she added. "They had a very different role in the conspiracies."
Clarke cited receipts showing that Tamerlan bought the components for the bombs, and noted that fingerprints proved that he was the one who assembled them into lethal weapons.
Moreover, she added, his actions were more drastic than Dzhokhar's. Clarke reminded the jurors that a Mercedes SUV driver had testified that Tamerlan carjacked him at gunpoint and boasted of killing Massachusetts Institute of Technology officer Sean Collier.
Chakravarty quickly walked jurors through evidence showing the defendant at the marathon with a backpack that concealed one of the deadly bombs. Once again, jurors saw footage of the blast that showed blood-stained streets, and heard the cries of the injured.
The gallery was packed and included victims' families, like Bill and Denise Richard. Their son Martin, 8, was one of three people killed by the bombs. Their daughter Jane lost a leg, and Denise went blind in one eye.
The prosecution showed a photo of Dzokhar standing near the Richards before the explosion.
"This is the defendant hiding behind a tree, looming over a row of children," said Chakravarty. "These children weren't innocent to him. They were American."
Though Dzokhar lingered near the Richard family in this spot for roughly four minutes, Clarke sought to downplay the notion that the defendant had targeted children.
"You can judge for yourself, but the video clearly shows he stops at the tree, not at the children," she said. "It does not make it better, but let's not make his intent any worse than it was."
Jurors also heard portions of religious music that Chakravarty said the defendant listened to for motivation, and were told about Inspire, the al Qaeda-linked magazine, found on his computer.
But Clarke argued that the prosecution was presenting a distorted picture of her client to make him seem like a zealot. She cautioned against misinterpreting the black flag with Arabic writing that hung in Dzokhar's bedroom, which the prosecution had shown to jurors. Likewise, Clarke said it was unfair for the prosecution to have played recordings of religious chants owned by the defendant.
"They played that to tug on your heartstrings," she said.
Chakravarty reminded jurors that soon after the explosions, Dzokhar engaged in mundane activities like buying milk in a supermarket and getting in a workout.
But the focus was on the mayhem from the time of the bombing until the defendant's capture on April 19, 2013. He was hiding in a winterized boat in which he'd written a note justifying the attack as payback for the deaths of Muslims around the world at the hands of the United States.
"Ultimately he did what terrorists do after they commit terrorist acts," Chakravarty said about the note. "He wanted to tell the world why he did it. He wanted to take credit."
Dzokhar has pleaded not guilty to 30 charges, including bombing of a public place and conspiracy to use a weapon of mass destruction. He sat quietly in court in a white shirt and jacket on Monday.
But 17 of the charges are capital crimes, and if he's convicted of at least one of those, the trial enters a penalty phase. During that phase, the same jury would hear new testimony before deciding if Dzokhar gets sentenced to death row or life without parole.
With her parting remarks on Monday, Clarke appeared to gear up for the coming fight over Dzokhar's punishment.
"We ask you to hold your minds open to what more there is to hear and what more there is to learn," she said. "We are not asking you to go easy on Dzhokhar."
The jury will begin deliberating Tuesday at 9 a.m.
This story has been updated to include further detail about Monday's trial proceedings.

Also on HuffPost:
Boston Bombing Trial Evidence
SUBSCRIBE AND FOLLOW
Get top stories and blog posts emailed to me each day. Newsletters may offer personalized content or advertisements.
Learn more