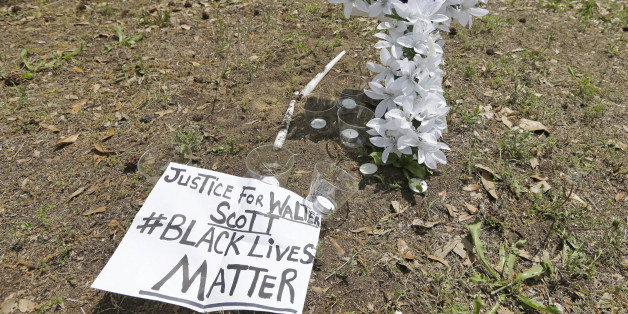 South Carolina police officer Michael T. Slager was arrested Tuesday and charged in the fatal April 4 shooting of Walter Scott following the release of video footage taken by an unidentified witness, which showed the 50-year-old unarmed black man running away after a traffic stop.
Joining the protestors are a slew of public figures who are also speaking out about Scott's death, which adds to the growing list of high-profile fatal police shootings of black men in the country.
Below, check out our roundup of reactions:
Am I the only one who, despite the video, is still skeptical this officer will be convicted. #WalterScott
Faith without works is dead. Let's get off our knees, burst through the church doors and STOP ACTING LIKE WE DONT SEE! #WalterScott
can you imagine the amount of murders that went down before the age and development of cell phone videos? this didn't start this year.
i was numb. now I'm angry. i rarely cuss here out of respect. but I'm angry as fuck. good night.
Well, cellphone cameras are good for more than selfies. Hallelujah. Busting these racist, trigger-happy police killing black men.
Just so we are clear: this South Carolina cop BLATANTLY lied on the police report. No video? His lie would be deemed THE TRUTH.
This South Carolina murder is why EVERY police officer in America should have a body camera AND a dashboard camera.
For a family understandably hurt and angry, their response tonight was calm, measured, and did the opposite of incite. #WalterScott
Though it never should have happened, so far, it looks as though justice will be served in THIS case. (thanks to vid proof) #WalterScott
#WalterScott
before I can comment I have to trudge through trying to comprehend the hate that went into the 8 shots.
#reallife
Cop who killed #WalterScott & planted evidence isn't being tried 4 murder cuz THEY saw what he did..he's being tried cuz WE saw what he did
Okay, watching the #WalterScott video was horrible, but I think the brave person who captured the murder is a Hero and a Godsend #Truthdom
SUBSCRIBE TO & FOLLOW TRUMP'S FIRST 100 DAYS
How will Donald Trump's first 100 days impact YOU? Subscribe, choose the community that you most identify with or want to learn more about and we'll send you the news that matters most once a week throughout Trump's first 100 days in office. Learn more