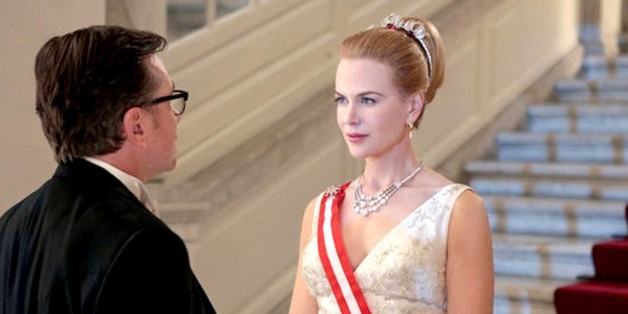 Middlebrow is a recap of the week in entertainment, celebrity and television news that provides a comprehensive look at the state of pop culture. From the rock bottom to highfalutin, Middlebrow is your accessible guidebook to the world of entertainment. Sign up to receive it in your inbox here.

There were other signals this film would flop beyond disputes over its cut. The genre seems to be struggling with last year's "Diana," which actually scored one point lower than the abysmal rating "Grace" earned on Rotten Tomatoes (8 and 9 percent, respectively). Both were nearly unanimously panned by critics, which may have signaled too low of a return in taking "Grace" to theaters. "Harvey Weinstein is far less willing these days to throw big marketing dollars into the market when there are no guarantees they will yield a winner," Thompson wrote. Ten or 15 years ago, the simple fact a name like Nicole Kidman was attached to "Grace" would have been enough of a buffer against such a critical reception, at least enough to take the risk at the box office.
You could argue that Kidman's fame has dwindled, that she's made some questionable choices in her career (or that she's just the victim of long-game revenge by Scientologists). Though, imagine it had been preceded by similar genre failures and debuted a decade earlier. Say Weinstein had still battled with the director and it had ended up as "a piece of hagiographic fluff that cobbles together tropes from other recent biopics of famous women," as Jon Frosch described "Grace" in a review for The Atlantic. Coming fresh off an Oscar win, would Kidman's star power have been enough to save "Grace" from a premiere on Lifetime?
To be clear, dear, celebrity-worshipping public, there will always be movies stars. Just a different kind. (Unfortunately for Michael Bay, it's impossible to make a movie propelled solely by computer-generated robots.) What will change, what is changing, is the force those stars used to hold over the theater. The modern movie star can give a film a bump, though their presence doesn't dictate anything, and few are immune to box office failures.
Middlebrow tends to end with a bit about what we can do to foster change, but this one seems to be out of Nicole Kidman's slim and well-manicured hands. So, sit back, relax hand over your soul to Optimus Prime and prepare to someday enjoy the Lifetime special "Cheerleader-Murdering Virgins," starring Meryl Streep.
Nicole Kidman's Style Evolution
SUBSCRIBE TO & FOLLOW ENTERTAINMENT
HuffPost Entertainment is your one-stop shop for celebrity news, hilarious late-night bits, industry and awards coverage and more — sent right to your inbox six days a week. Learn more