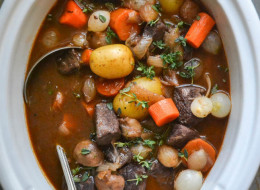 There are many reasons to love French food. There are the amazing pastries, the rich sauces, and the salads loaded with bacon. And of course, all the bread. It's the centuries of fine cuisine that make their culinary culture so rich; that, and their unapologetic use of butter and heavy cream.
The French are definitely not scared of butter OR heavy cream. And if you're going to tackle French recipes -- which you should -- you can't be either. Get ready to channel your inner Julia Child because to enjoy this cuisine you have to be prepared to enter their world of rich food with abandon. It's the secret to their culinary success. And it will be yours, too.
Salade Lyonnaise

James Ransom/Food52

Pâté En Croûte

Manger

Gratin Dauphinois

Beloved Green

Pan-Fried Foie Gras

Manger

Onion Soup

James Ransom/Food52

Garlic Soup

Manger

Coq Au Vin

thirschfeld/Food52

Liver Pâté

Simply Recipes

Quick Cassoulet

Dinner with Julie

Beef Bourguignon

The View From The Great Island

Bouillabaisse With Red Pepper Rouille

What's For Lunch Honey?

Dijon Chicken

Simply Recipes

Escargots à la Bordelaise

Manger

Croque Monsieur

Verses from My Kitchen

Salad Nicoise

Wild Greens And Sardines

Tartiflette

Ferdakost

Steak Au Poivre

Cookin' Canuck

Braised Rabbit With Prunes

Simply Recipes

Quiche Lorraine

Simply Recipes

Simple Skillet Ratatouille

The Fitchen

Gougères

Manger

Blanquette De Veau (Veal Stew)

Manger

Nutella Banana Crepes

Sweet and Savory Tooth

Creme Brulee

30 Pounds of Apples

Profiteroles

A Cozy Kitchen

Apple Tarte Tatin

Dramatic Pancake

Cherry Clafoutis

James Ransom/Food52

Floating Island

Cafe Johnsonia

Dark Chocolate Mousse With Raspberry Puree

White On Rice Couple
Want to read more from HuffPost Taste? Follow us on Twitter, Facebook, Pinterest and Tumblr.