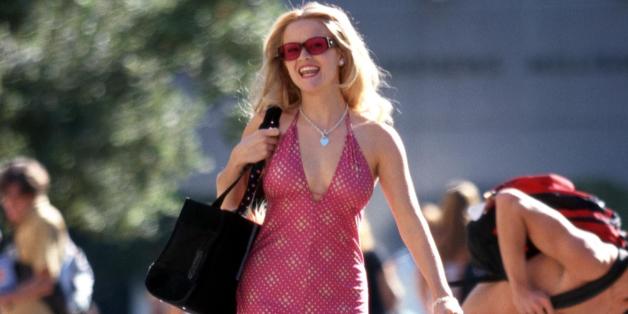 There's never a season not made for binge-watching. As May steadily approaches, prepare for your Netflix marathons with a host of new titles hitting the site, including Reese Witherspoon classic "Legally Blonde" and much-anticipated Netflix original series "Grace & Frankie." (After you check out the list below, make sure you also take note of which of your favorite flicks are leaving the site come the end of the month.)
This list is subject to change. HuffPost Entertainment will attempt to keep it as current as possible.

Films and Specials
"Beyond Clueless"
"Jimi: All is by My Side"
"Legally Blonde"
"Legally Blonde 2: Red White & Blonde"
"No No: A Dockumentary"
"The Last Waltz"
"The Prize Winner of Defiance, Ohio"
"Underclassmen"
"Lalaloopsy: Festival of Sugary Sweets" (May 2)
"LeapFrog Letter Factory Adventures: Amazing Word Explorers" (May 2)
"Anita" (May 3)
"D.L. Hughley: Clear (May 3)
"A Few Best Men" (May 5)
"The Longest Week" (May 6)
"Tyler Perry's A Madea Christmas" (May 8)
"Jinn" (May 9)
"The Liberator" (May 9)
"Extraterrestrial" (May 12)
"Fruitvale Station" (May 12)
"Magical Universe" (May 12)
"The Identical" (May 13)
"Cyber-Seniors" (May 15)
"Dawg Fight" (May 15)
"Give Me Shelter" (May 15)
"First Period" (May 16)
"Tinker Bell and the Legend of the NeverBeast" (May 17)
"Before I Disappear" (May 19)
"Girlhood" (May 19)
"Zombeavers" (May 19)
"H20 Mermaid Adventures" (May 22)
"Inglourious Basterds" (May 22)
"Jen Kirkman: I'm Gonna Die Alone (And I Feel Fine)" (May 22)
"The Other One: The Long, Strange Trip Of Bob Weir" (May 22)
"Antarctica" A Year On Ice" (May 23)
"The Boxtrolls" (May 23)
"Love and Honor" (May 24)
"Welcome to the Punch" (May 24)
"Before I Go to Sleep" (May 27)
"Hot Girls Wanted" (May 29)
TV Shows
"Longmire," Season 3
"Shameless," Series 10
"Witnesses," Season 1
"Royal Pains," Season 6 (May 3)
"Grace & Frankie" (May 8)
"Puss in Boots," Season 1 (May 8)
"American Restoration" (May 14)
"Counting Cars" (May 14)
"Dance Moms" (May 14)
"Duck Dynasty" (May 14)
"Hoarders" (May 14)
"Modern Marvels" (May 14)
"The Universe" (May 14)
"Anthony Bourdain: Parts Unknown," Season 4 (May 15)
"Granite Flats," Season 1-3 (May 15)
"Between," Season 1 (May 21)
"Richie Rich," Season 2 (May 22)
"Transporter: The Series," Season 1 (May 22)
"Graceland," Seasons 1-2 (May 26)
"Mako Mermaids," Season 3 (May 29)
Best TV Shows To Binge-Watch
SUBSCRIBE AND FOLLOW
Get top stories and blog posts emailed to me each day. Newsletters may offer personalized content or advertisements.
Learn more