Zoodles are taking the world by veggie-fueled storm. If you haven't heard, zoodles are spiralized or julienned vegetables that function similarly to spaghetti. Zoodle fans adore them for their low-carb, low-calorie, pasta-mimicking potential. They can be topped classically, with tomato sauce, mixed into a soup or stir fry, made into mac & cheese, or -- really, they have limitless potential.
To turn an average vegetable into a sensational cascade of ribbons, a tool of some sort is required. There are tons of spiralizers on the market, but according to America's Test Kitchen, the Paderno World Cuisine Tri-Blade Plastic Spiral Vegetable Slicer is the best. The testers say the machine's crank handle quickly churns thick or thin strands of ribbons from a variety of produce: Apples, potatoes, beets and zucchini can be popped into the machine and converted into ribbons within seconds. The testers highlight the kitchen gadget's easy assembly.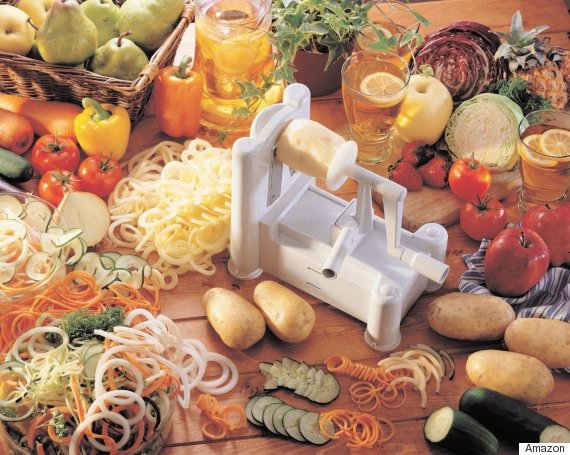 Use the code ATKSPIRAL to purchase the Spiral Vegetable Slicer for just $23.99 on Amazon. Add the Paderno World Cuisine Tri-Blade Plastic Spiral Vegetable Slicer to your cart and enter code ATKSPIRAL in the "Gift cards and promotional codes" box at checkout. This special code may be used as many times as you like and shared with family and friends. Offer ends at 11:59 p.m. PST on April 23, 2015. For Amazon customer support, visit this website.
(This could be you!)
SUBSCRIBE AND FOLLOW
Get top stories and blog posts emailed to me each day. Newsletters may offer personalized content or advertisements.
Learn more