GALLIPOLI PENINSULA, April 24 (Reuters) - Britain's Prince Charles and Turkish President Tayyip Erdogan led commemorations on the Gallipoli peninsula on Friday to mark the 100th anniversary of a World War One battle that helped shape the birth of new nations.
Thousands of Australians and New Zealanders have flocked to the peninsula on Turkey's Aegean coast to remember the fallen in an ill-fated Allied campaign a century ago that claimed more than 130,000 lives.
Australian Prime Minister Tony Abbott and his New Zealand counterpart John Key are also due to lead commemorations including a dawn service on Saturday at ANZAC Cove, the narrow beach where thousands of soldiers from the Australian and New Zealand Army Corps (ANZAC) struggled ashore in April 25, 1915.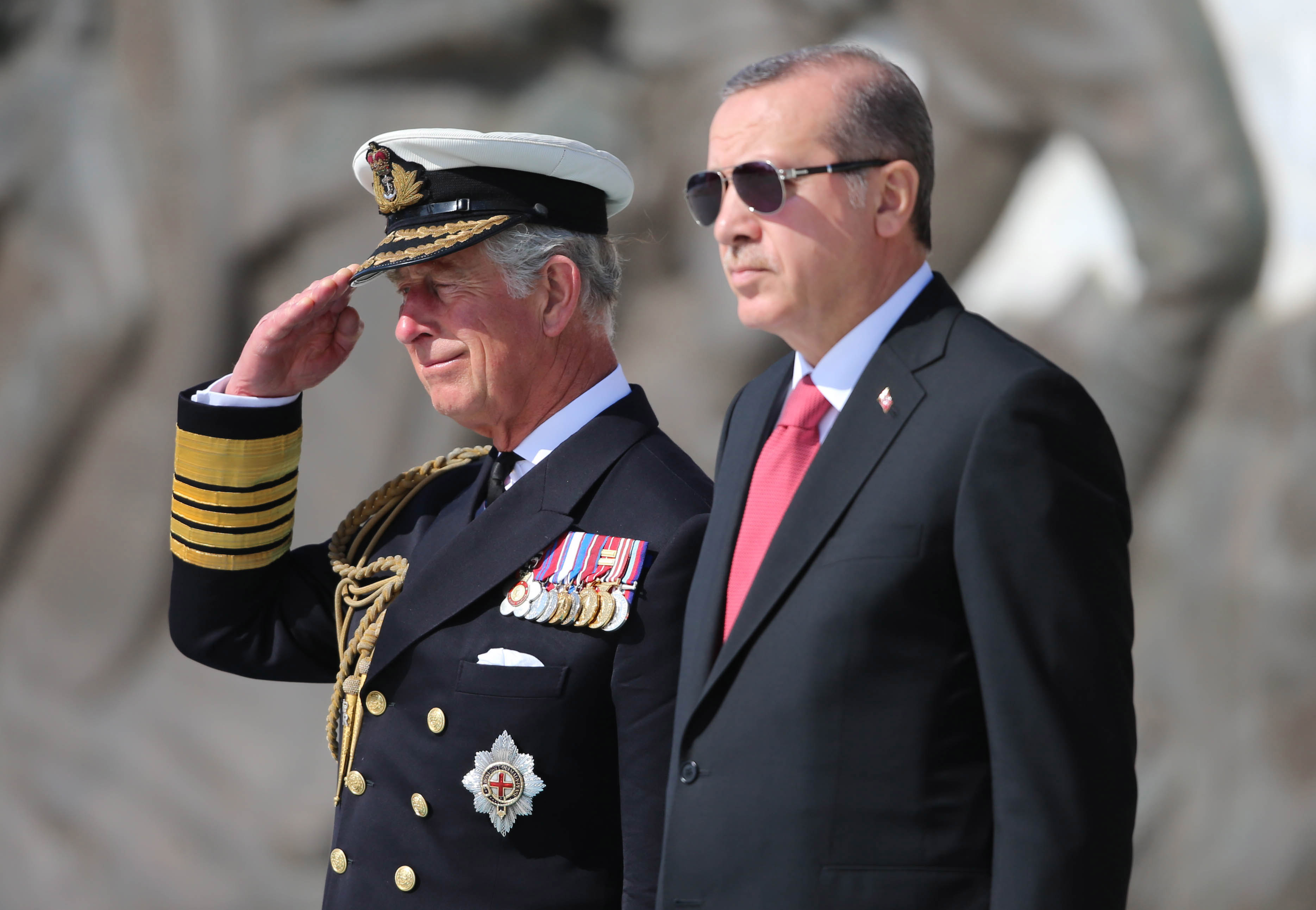 Prince Charles, Prince of Wales and Turkish President Recep Tayyip Erdogan attend an international service of remembrance at the Abide memorial on April 24, 2015 in Seddulbahir, Turkey. (Niall Carson - Pool /Getty Images)
"Tens of thousands of youths buried their futures in this land," President Tayyip Erdogan told an international ceremony at the main Turkish memorial on the peninsula.
"The soldiers lying in this soil are also our children," he said, a reference to the words of modern Turkey's founder Mustafa Kemal Ataturk, then a young officer, who vowed that the foreign fallen were now lying under friendly soil.
Gallipoli was the first time that soldiers from Australia and New Zealand fought under their own flags and is seared in the national consciousness as a point where their nations came of age, emerging from the shadow of the British empire.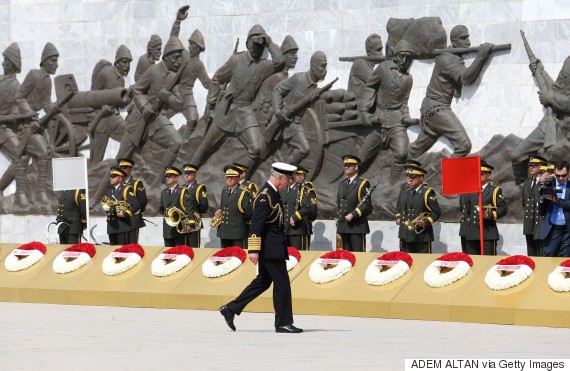 Britain's Prince Charles, Prince of Wales walks after laying a wreath during a commemoration ceremony marking the 100th anniversary of the start of the Battle of Gallipoli, on April 24, 2015 (ADEM ALTAN/AFP/Getty Images)
The area has become a site of pilgrimage for visitors from the two countries, who honor their fallen in graveyards halfway around the world on ANZAC Day each year. This year is set to be the largest ever commemoration.
It is also a national touchstone for Turkey, heralding the rise of Ataturk, who as a young officer led the defense. He later founded modern Turkey, the secular republic that emerged from the ruins of the Ottoman empire.
"The Battle of Gallipoli is truly a reminder that the Great War was truly a world war...It destroyed old empires and created new fissures," Prince Charles said in a speech under clear, sunlit skies.
"On this centenary occasion, it seems to me we must remember the heroism of both sides."
Security was especially tight at the memorials and graveyards around the peninsula as the former adversaries now face a common threat from Islamist militant violence.
Australian police on Saturday foiled what they said was an Islamic State-inspired attack planned at an event to mark the centenary, a holiday in Australia and New Zealand.
Turkey, which borders Syria and Iraq and has been a major transit route for foreign fighters headed there, is also on alert for potential attacks.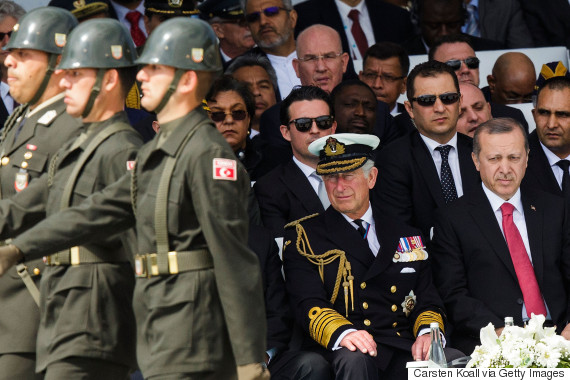 Soldiers march in front of Turkish President Recep Tayyip Erdogan (R) and Prince Charles, Prince of Wales (C) during a ceremony to commemorate the centenary of the Gallipoli campaign, near Seddulbahir Turkey, on April 24, 2015.
(Carsten Koall/Getty Images)
Turks mark what they call the Canakkale War on March 18 -- the day in 1915 that saw the start of the main Allied naval assault on the Dardanelles Straits ahead of the ground invasion.
Some 130,000 soldiers perished during the campaign -- 87,000 of them from the Ottoman side -- before the Turks, under German command, finally repulsed an Allied campaign that was hampered by poor planning.
But it would prove to be one of the Turks' few successes in the war. In November 1918, the Allied fleet sailed through the Dardanelles and took Istanbul without a single casualty.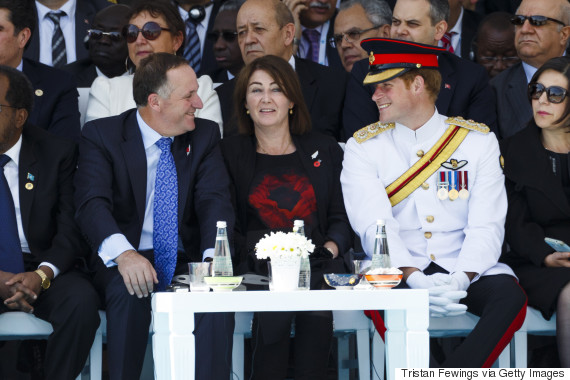 Prime Minister of New Zealand John Key, his wife Bronagh Key and Prince Harry attend ceremony to commemorate the centenary of the Gallipoli campaign, in Seddulbahir Turkey, on April 24, 2015. (Tristan Fewings/Getty Images)
(Additional reporting by Tuvan Gumrukcu in Ankara; Writing by Nick Tattersall; Editing by Angus MacSwan)
SUBSCRIBE AND FOLLOW
Get top stories and blog posts emailed to me each day. Newsletters may offer personalized content or advertisements.
Learn more