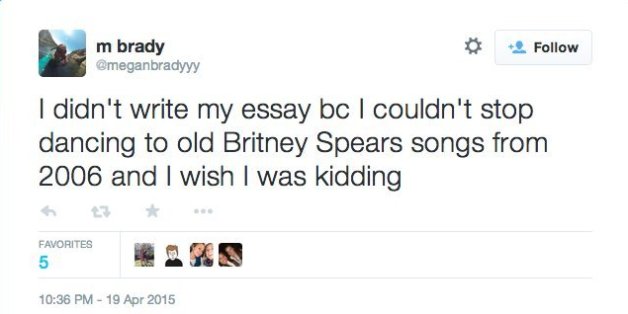 Every week, we round up the best 140-character quips and insights from our esteemed blogging team -- and other equally awesome teen tweeters. Scroll down to read the latest batch and share your own suggestions by following @HuffPostTeen!
just told a joke out loud. hope it all wrks out
someone should just sit and listen to me explain my favorite movie plots to them
I just bought a $9 Lily Pulitzer nail polish at Target so you can say I'm bathing in riches
I just made beautiful perfect scrambled eggs + yet my family still out here saying "justina can't cook"

I set the stove on fire ONE time
Bellela Thorne is here but not Zendaya smh how is she gonna shake it up alone
Kids are so lucky they get ppl to read them stories at bedtime just bc they're cute and small. My friends won't do that for me.
I didn't write my essay bc I couldn't stop dancing to old Britney Spears songs from 2006 and I wish I was kidding
The irony level of Waka Flocka actually running for president would only be surpassed by Waka Flocka actually becoming president
Okay yes maybe I favorite all your tweets in a manner very similar to that of a crazy person but I'm not crazy I just super enjoy you
one of the worst things in life is getting really comfortable in bed and then realizing you have to pee
beyoncé's in hawaii and there are palm trees there

i'm in ecuador and there are palm trees here

basically i'm vacationing with beyoncé
SUBSCRIBE TO & FOLLOW LIFESTYLE
HuffPost Lifestyle is a daily newsletter that will make you happier and healthier — one email at a time. Learn more