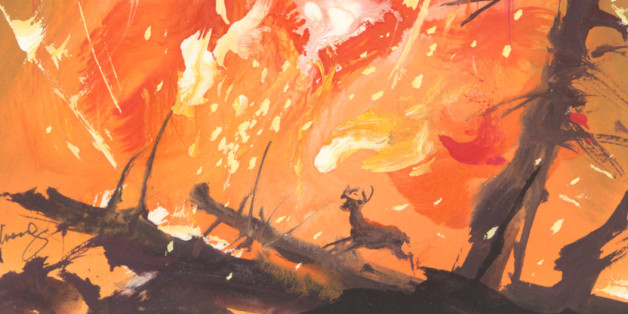 A lone deer stands on a windswept mountain. Though the setting is fresh with spring blooms, he looks still -- almost pensive, like the human figures overwhelmed by nature in so many Romantic paintings.
It's the work of Tyrus Wong, a Chinese immigrant and WPA artist whose work served as the aesthetic inspiration for Walt Disney's second feature-length animated film, "Bambi."
The somber nature of the scene makes sense when taking Wong's lonely upbringing into consideration. He travelled to America in 1919 with his father from Guangdong, China, but due to the Chinese Exclusion Act of 1882, was detained for nearly a month upon arrival. He went on to work as a Depression-era muralist in Los Angeles, funded by the Works Progress Administration, and a film production illustrator for Warner Brothers from 1942 to 1968.
It was in '42 that his work caught the eye of Walt Disney, eventually inspiring the look of Bambi. According to the Museum of Chinese in America, where Wong's work is currently being shown, his "impressionistic art influenced the movie's overall visual style and changed the way animation art was presented."
"'Snow White' preceded 'Bambi' and was stylistically much different. The forest in 'Snow White' was ornately detailed, down to depicting every leaf on trees. It seemed as though Walt Disney was struck by the elegant minimalism of Tyrus's interpretations of the forests in 'Bambi,'" Herb Tam, the museum's director of exhibitions, told The Huffington Post. "Wong imagined a highly expressive forest, defined more by gestures, bold color schemes and suggestions of light."
Wong's earlier work used traditional Chinese calligraphic techniques to depict the people living around him in Los Angeles. "This bold outlining," Tam explained, "is reflected especially in how Tyrus handled trees within 'Bambi.'" Wong described his later work as representing "loneliness, and a little sadness. Isolation."
Such themes can be seen in the serene forests he painted for Disney, too, with lone deer dodging fires, and standing proudly on hilltops.
Tyrus Wong's work will be on display at the Museum of Chinese in America from March 26 to Sept. 13, 2015. For more on the art that inspired Disney films, check out ourpast coverage of Mary Blair.
SUBSCRIBE TO & FOLLOW CULTURE SHIFT
Every Friday, HuffPost's Culture Shift newsletter helps you figure out which books you should read, art you should check out, movies you should watch and music should listen to. Learn more