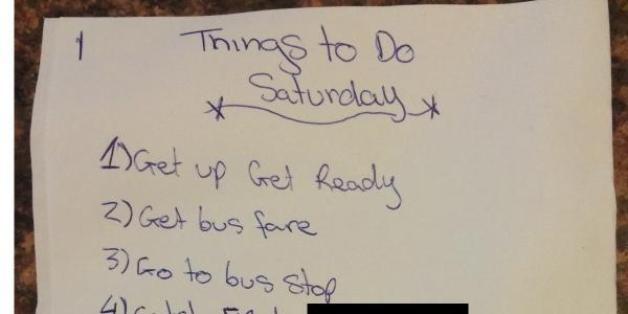 Pot smokers are DANGEROUS.
Just look at this depraved soul's to-do list, which cops in Australia tweeted out Wednesday, sarcastically asking "Are ur Saturdays hectic like this?" Police in Murdoch found it while raiding the weed fiend's home.
Are ur Saturdays hectic like this!!! To do list located at search warrant in Cooby. #MurdochLPT3 pic.twitter.com/KdpMbdEYMq
You see that, readers? This miscreant was going to have chips AND gravy on Saturday before going to K-Mart. Everybody knows that shopping after a meal can cause an upset stomach, fatigue and MAYHEM.
But in all seriousness, it appears that the Murdoch Police -- and their followers on Twitter -- got a kick out of the agenda, which they found while searching a home during a burglary investigation.
Police wouldn't say whether there were any arrests, or if they found any evidence of burglary, according to WA Today.
But they found the 10-item list, which ended with a plan to "Get a stick, chop up and get stoned." Getting a stick, according to WA Today, is a slang term Down Under for picking up a bit of weed wrapped in aluminum foil.
The tweet certainly got a response from Australians, at least 85 percent of whom believe marijuana should be legalized, according to the Daily Mail.
@MurdochPol how disgusting, this sick criminal deserves no less than life for the heinous crime of smoking a plant.
@MurdochPol At least you don't have to worry about that criminal mastermind anymore.
@RachLovesWine @mumbrella Yes, the humour was why it was posted, we thought it was funny and did not disclose any identities.
Most organised stoner ever "@MurdochPol: Are ur Saturdays hectic like this!!! To do list located at search warrant pic.twitter.com/3mAEyvWxu3"
SUBSCRIBE TO & FOLLOW WEIRD NEWS
The Huffington Post's Weird News email delivers unbelievably strange, yet absolutely true news once a week straight to your inbox. Learn more