Russell the cat has spent the last year and a half at a North Carolina veterinary clinic recovering from a fire that burned his face and body, made him lose the tips of his ears, and destroyed his family's house.
As he's been getting better, Russell's also been snuggling up with lots of new pals as they undergo their own treatments.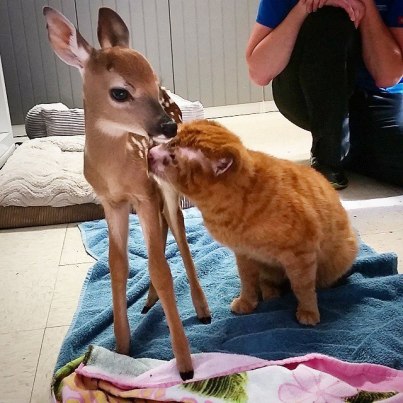 Photo: Animal Emergency Hospital and Urgent Care
A baby deer, now named Darla, arrived this week, for example.
She'd been discovered on someone's lawn. That person was advised to keep an eye out and see if the mother came back.
When Darla attempted -- and failed -- to nurse from a local dog, it was determined the mom was probably dead, and the baby was probably going to need some help.
"So we took her," says Maus -- we meaning the clinic, which treats injured wildlife in addition to companion animals.
Russell, in turn, fawned all over his new friend.
And of course, Russell the man has been showing Darla the ropes and sharing his bed. (Russell has recently been thinking of chewing his still healing ankles, so he did have to get his e-collar put back on.)
Most of Russell's meow-lodex is filled with dogs who've come through the animal hospital, like a Chihuahua stray named Roscoe, whose eye was injured after the doggie was attacked.
A stray lab named Squirrel who got hit by a car soon also found herself with a warm ball of Russell in her life.
Russell has been such a wonderful spokescat for our Good Samaritan Program, including giving support to other patients when needed.
So Russell's flying solo at the moment, awaiting the next furry creature in need, he can snuggle up to.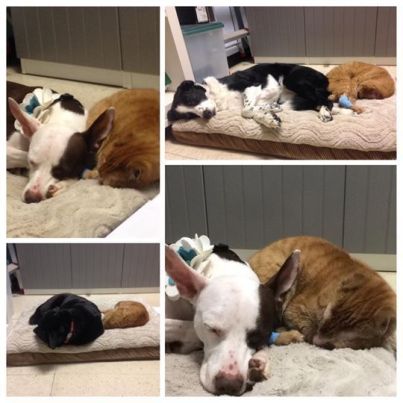 Photo: Animal Emergency Hospital and Urgent Care
The question you might be asking is: given this much time, and so many transient friends, when will Russell go home to his family?
The answer is that no one can say. After a couple dozen surgeries and other treatments, Russell isn't completely well yet -- and his home isn't totally rebuilt, either.
But he's welcome to stick around.
Thanks to generous donations, Russell's medical bills are covered. (The hospital's Good Samaritan Fund, used to provide care for other animals, still could use some bolstering.)
Russell's also fully equipped with toys and beds and treats -- and, a couple of Valentine's Days ago, a bunch of balloons -- sent from adoring fans the world over, who've followed his progress on Facebook and elsewhere.
Happy Valentine's Day from the most popular cat around! Pictures, video, and many thanks to come!
Staff love the little charmer, who even purrs while his bandages are being changed. And at the clinic, Russell often sits with the folks in the animal hospital waiting room, some of whom are having really awful days.
If Maus occasionally has the teeniest doubt that Russell's affections are bestowed out of empathy, "or if he just likes the warm body, I couldn't say," it is utterly clear that he does something very special for everyone who gets to know him.
"He helps give them some hope," Maus says. "Him being such a little cat of perseverance."
It's really hard to get any work done around here most days. :)
And get in touch at arin.greenwood@huffingtonpost.com if you know an exceptional cat, or have another animal story to share!
ALSO ON HUFFPOST:
Unlikely Animal Friendships
SUBSCRIBE TO & FOLLOW THE MORNING EMAIL
The Morning Email helps you start your workday with everything you need to know: breaking news, entertainment and a dash of fun. Learn more