Get ready for your brain to hurt. Again.
A math teacher in Vietnam challenged his third-grade class (read: 8-year-old students) to solve this seemingly simple arithmetic problem.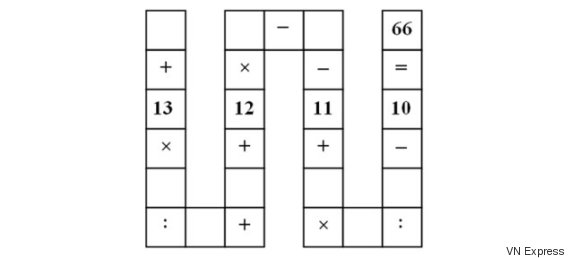 Apparently you're supposed to plug in the numbers 1 through 9, using each digit once, in each of the blank spaces. Using the identified operations and the inserted values, a correct answer would lead to a solution of 66 (those double dots stand for division, by the way).
The Guardian's Alex Bellos has promised to upload a solution "later," but if anyone has an easier approach, leave it in the comments.
SUBSCRIBE TO & FOLLOW WEIRD NEWS
The Huffington Post's Weird News email delivers unbelievably strange, yet absolutely true news once a week straight to your inbox. Learn more